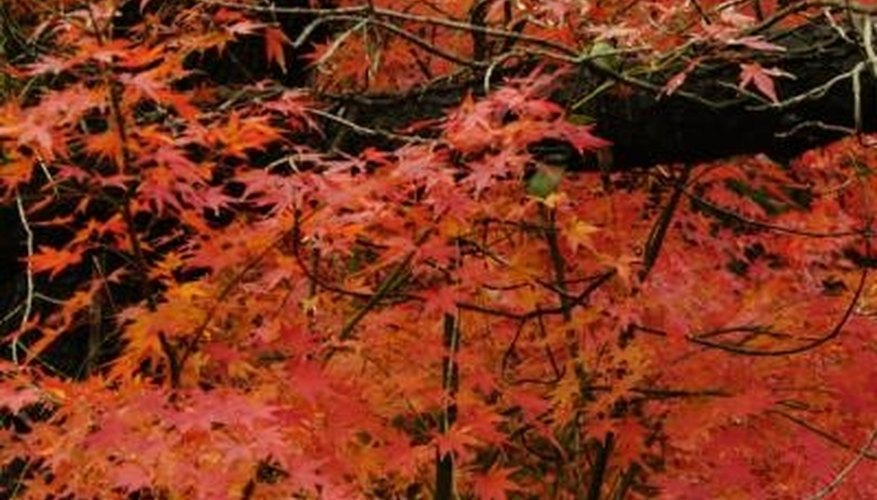 Japanese red maples are deciduous shrubs that are commonly mistaken for small trees. On account of their bold red foliage and diversity -- they can be planted in pots, lawns, gardens and borders -- Japanese maples are frequently used in landscaping and gardening projects. The standard, or upright, variety of the plant is native to eastern Asia. Many cultivars have been developed for American gardeners and landscapers, among which is the bloodgood variety.
Nature
The nature of the upright and bloodgood Japanese maple is very different. The former is a plant naturally occurring in the east Asian nations of China, Korea and Japan that is commonly used in landscaping because of certain physical characteristics that are coveted by gardeners. The latter is a genetic variation of the original plant that is designed specifically for use by humans. Thus if humans had never existed, the Japanese upright red maple would, theoretically, still exist. The bloodgood, however, would not. Unless some very crafty ape gardeners figured out how to create cultivars.
Taxonomical Nomenclature
Taxonomical nomenclature is a fancy way of saying scientific name. The scientific names of the upright Japanese red maple and the bloodgood Japanese maple cultivar are similar, given that the latter is a variation of the former, but the two do in fact have different scientific names. Japanese upright maple is known scientifically as Acer palmatum while the bloodgood is known as Acer palmatum 'Bloodgood.' Both plants belong to genus Acer, and both are of the species palmatum. However, the upright is the actual species, whereas the bloodgood is a variation, hence the derivation in nomenclature.
Size
Standard, or upright, Japanese maples are slightly taller than those of the bloodgood cultivar and have a generally larger growth range. According to North Carolina State University, upright Japanese maples reach a mature height of 15 to 25 feet. The University of Florida, meanwhile, asserts that bloodgood Japanese maples reach a mature height of 12 to 20 feet. Upright maples reach a mature spread, or width, of 10 to 25 feet, while bloodgood cultivars reach a mature spread of 15 to 20 feet. Thus it is it possible that a bloodgood have ultimately more mass than an upright Japanese maple given ideal growing conditions, given the larger growth range of the upright.