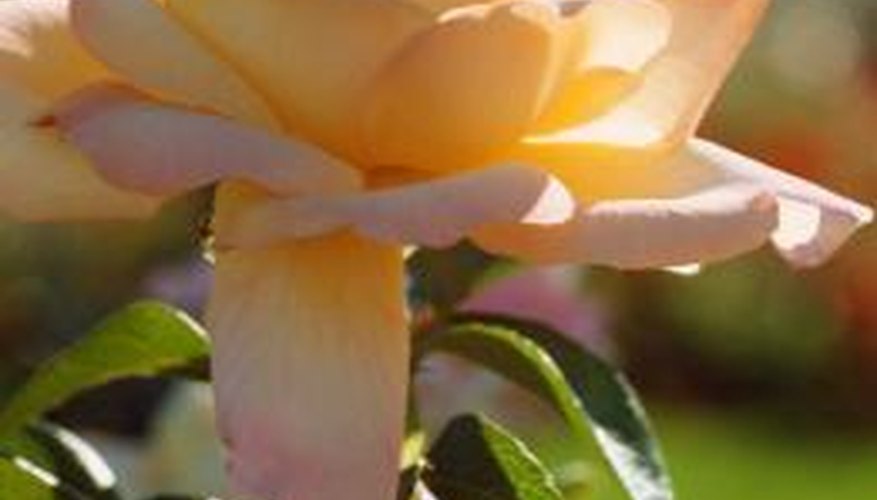 U.S. Department of Agriculture plant hardiness zone 9 represents one of the smaller growing zones within the United States, stretching across parts of the southern United States, including parts of Florida, Louisiana and Texas. When considering roses to plant within zone 9, look to roses that can handle the warm temperatures and occasional drought conditions. The roses that work well within zone 9 thrive on full sun and lots of air circulation.
Knock Out
Knock Out roses, introduced to the rose market in 2000, draw much favor from gardeners because of the ease of care and their resistance to disease. Rose cultivator Bill Radler created Knock Out roses by making a hybrid of Carefree Beauty and Razzle Dazzle roses. The resulting rose features a self-cleaning function and has drought and heat tolerance, making them ideal plants for the warmer temperatures of zone 9. Knock Out roses come in a variety of bloom shades, such as bright red, pale pink and yellow. These roses lack a strong fragrance and may not last as long once cut. The shrub grows to about 5 feet tall and 5 feet wide.
More Info about Hardiness Zones
Carefree Beauty
The Carefree Beauty rose shrub was introduced in 1977. Griffith Buck cultivated this rose by crossing the Seedling rose with a Prairie Princess. Carefree Beauty roses thrive within a variety of climates, ranging from zones 4 to 9. Blooms of the Carefree Beauty shrub feature a dark pink shade, semidoubling petals and a moderate fragrance. At full height, this shrub reaches about 5 feet tall and just as wide.
La Marne
The La Marne rose has been around since 1915, when it was introduced by Barbier Freres and colleagues. They crossed the Mme. Norbert Levavasseur rose with the Comtesse du Cayla. La Marne roses classify as polyantha roses, meaning large numbers of roses bloom in clusters from a stem. The blooms of the La Marne come in pink with white blended in and lack a fragrance. The bush reaches 5 feet tall and 4 feet wide.
The Fairy
If you have more limited space, a dwarf shrub may work well. The Fairy, introduced in 1932, reaches a maximum height of 3 feet, with a 4 foot spread. Rose breeder J.A. Bentall created this cultivar by crossing a Paul Crampel rose with a Lady Gay. As a polyantha, The Fairy roses bloom in clusters of light pink, nonfragrant flowers.
New Dawn
For climbing roses, consider New Dawn, introduced in 1930 by H.A. Dreer. While it can grow in the northern part of zone 9, known as 9a, New Dawn may not do well within 9b, as it may be too warm. New Dawn roses double blossom and grow in blush pink with a strong fragrance. These vigorous climbers reach between 15 and 20 feet at maturity, with a width of 10 feet.
Sea Foam
Sea Foam roses represent another type of climbing rose that can live within zone 9. A mannerly climber, Sea Foam roses reach about 8 feet tall and 4 feet wide. E.W. Schwartz developed this cultivar in 1964 by crossing the White Dawn with the Pinocchio rose. The white blooms of the Sea Foam rose double blossom and feature no fragrance.