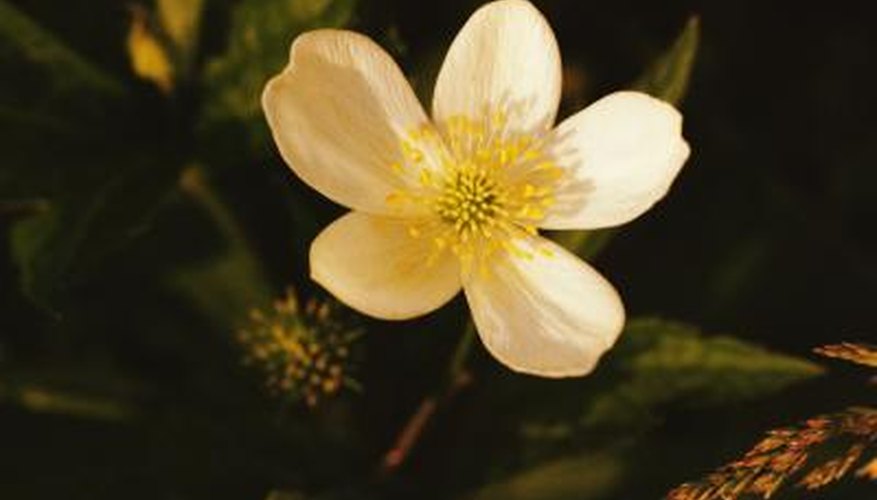 Jupiterimages/Photos.com/Getty Images
Buttercup is a troublesome perennial weed for gardeners and farmers. The plant is poisonous to some animals including cows. The weed belongs to the Ranunculaceae family of flowering plants. Over 1,800 species of buttercup exist. Approximately 93 of those species grow in the United States and Canada. Integrated management programs that include the use of a few key herbicides are most effective in controlling buttercups, based on agricultural extension reports in some states.
Glyphosate
Glyphosate is a broad spectrum herbicide sold under many trade names. The non-selective chemical can kill many types of weeds including buttercup. It works by inhibiting the creation of essential proteins buttercup needs to grow. In order to minimize the effects of glyphosate on crops, some farmers use genetically-engineered seeds that are resistant to glyphosate. Originally patented by biotechnology company Monsanto, it is sold under many trade names from several manufacturers because the patent expired. Glyphosate is one of the most widely used herbicides in country. It is can be used with other herbicides. Several hundred types of glyphosate are on the market. It is sold in lawn and garden stores as a liquid or a solid in the form of acid or salts. It is toxic to some animals including dogs and can cause vomiting, diarrhea and loss of appetite in pets.
Glufosinate
Glufosinate is broad spectrum herbicide that targets all weeds and used in integrated buttercup management. It is a patented chemical manufactured by Bayer CropScience and sold under a few commercial names in over 80 countries. Only one brand is available for home gardeners. The others are restricted for agricultural use. The chemical works by inhibiting enzymes needed for food production in plants. Photosynthesis in buttercup is halted and the weed withers and dies. Glufosinate is non-selective and can also harm ornamental and turf plants. Farmers can plant seeds that are modified to resist the effects of glufosinate. The chemical is sold as a soluble concentrate.
Triclopyr
Triclopyr is a selective herbicide that is used with other types of herbicides to control buttercup growth. It is a patented chemical created by Dow AgroSciences and sold under different trade name. While it is a selective herbicide, it can harm some ornamentals and vegetables. Triclopyr works by disrupting the cell growth of plants. Some triclopyr products are only available to agricultural professionals. However, home gardeners can purchase products containing the chemicals in garden centers. Triclopyr products are available as a soluble concentrates.