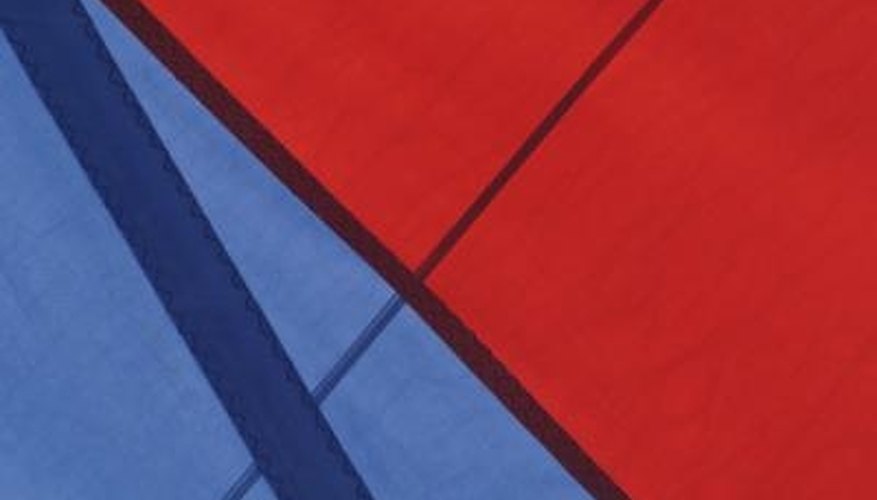 Sun sails or shade sails are outdoor coverings of breathable fabric that stretch over areas exposed to the elements. The sails are usually geometric in shape but vary widely in configuration and may be used singly or in groupings. Sun sails are hooked onto buildings, attached to trees or suspended from poles, and some are adjustable so they can be moved throughout the day. Sun sails are available in many price ranges and can be homemade.
Pools and Patios
A sun sail over a pool or patio adds hours to its enjoyment. Movable or fixed sails protect kids from too much sun exposure, even if they like to spend all day in the pool. The shade slows chlorine loss from intense UV rays, saving money and time on pool maintenance. In a hot climate, a sun sail allows pool water to remain at a consistent, refreshing temperature without the use of costly cooling pumps. Suspended over a patio, the shade keeps a container herb garden green and patio users comfortable. The shades come in a variety of colors and configurations so they can turn a simple slab of concrete or pavers into an attractive respite and add value to a home.
Parks and Playgrounds
Sun sails are ideal for public areas exposed to midday sun. A playground looks as inviting as a tented circus with a colorful sail over the sandbox or the monkey bars. Kids can play as long as they like when they aren't being fried and slathered with sunblock. A treeless park expanse of lawn with a group of sails invites picnickers to spread a blanket in a shady oasis. Park events like concerts benefit from the flip side of the sun sail. It protects from a light rain as well as too much sun. Investing in a sail could mean fewer rain dates and better access to community offerings.
Carports
A sun sail converts a driveway into a covered carport that adds years to the finish of a car. The sail can be attached to the house and supported by poles or a nearby tree. If the driveway is next to a door, a sun sail protects people dashing into or out of the house in inclement weather. Sun sails can be customized to suit awkward spaces and match house trim. Adding a sun sail adds curb appeal, cost efficiencies and convenience to a home without a garage.
Gardens
A day in the garden can be a whole day in the garden when the sun isn't beating down on the gardeners. Sun sails stretch between grown trees easily or can be staked on poles. One or more of them will protect delicate cultivars that need some shade. They can be adjusted seasonally in regions where plants need more or less sun to thrive. And while they may not make weeding a pleasure, the shade is more pleasant to work in, and a sun sail creates a sheltered spot for a relaxing chaise when the garden work is done.