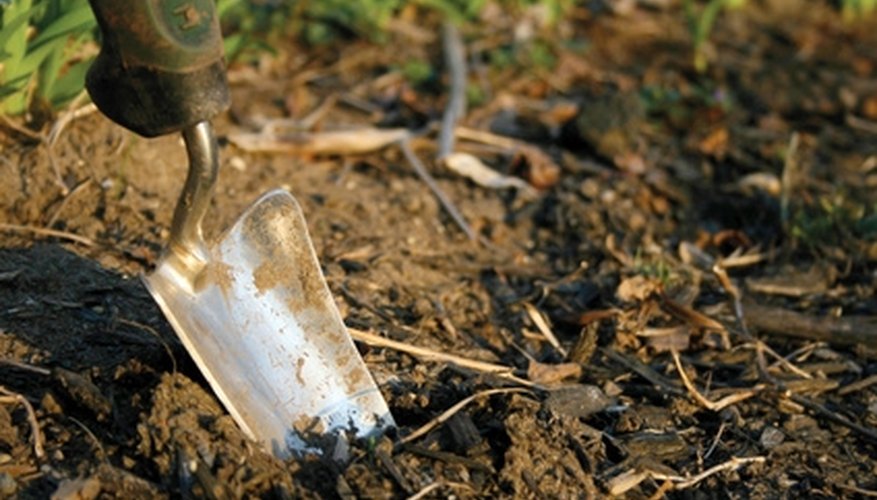 Ditch digging is necessary in the development of an effective lawn irrigation system, as these trenches are essential for providing electricity and water to the farthest reaches of your lawn or property. Several tools have been used for years to dig ditches by hand, and they continue to be used for their low cost, reliability and the degree of control they offer.
Hoe
Hoes are efficient, long-handled ditch-digging tools with a vertical metal face that can be used by trenchers of every experience level. These manual ditch-digging tools are used to chop dirt loose and are designed to drag debris and loose soil. Hoes are easier on your arms and back than other ditch-digging tools, and the right-angled metal face of this tool allows for easy "shaving" of the trench walls to create even, straight walls.
Pickaxe or Mattock
Pickaxes feature a metal head with a pointed end and a flat end, and these ditch-digging tools are used to break up and remove stone, pavement and concrete. Pick mattocks are similar digging tools that are distinguished by their broad, chisel-like blade that is situated perpendicular to the handle and used to break up harder, rocky soils.
Shovel
Shovels are the manual digging tool of choice, as a spade is made specifically to loosen and remove topsoil, small rocks and dirt. Shovel trenching is ideal for the digging of smaller ditches and trenches, the cleaning of the bottom of trenches and for digging out areas where powered trenchers can't fit. Flat-bottomed shovels are used for the removal of loose stone and dirt, as well as flattening the ditch floor to create an even bed for the pipe to be lain in your ditch.