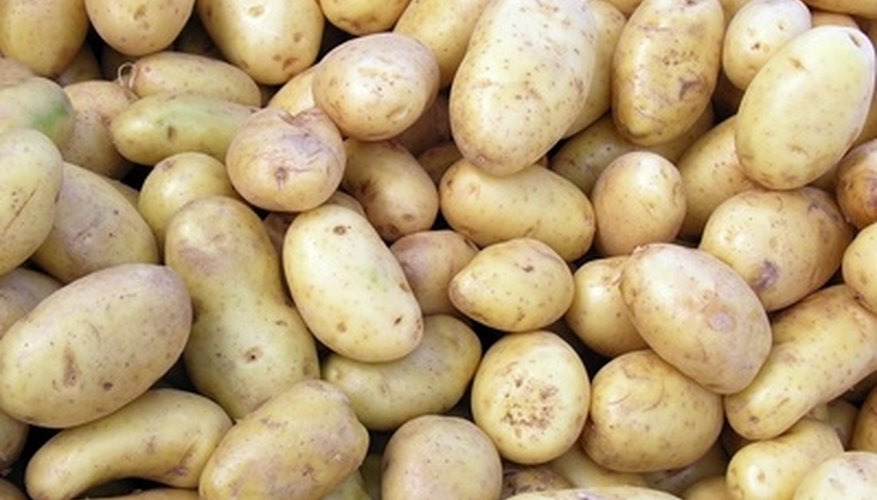 Rotating potato crops is important since, on average, each person in America will eat approximately 124 pounds of potatoes per year; Germans eat approximately twice that, according to Montcalm County Community and Information Center. Additionally, at only 100 calories per 8-ounce baked potato, the potato is a diet favorite. And one acre or less of this important crop can produce enough gasohol for 25 cars.
Tomatoes
The tomato plant family consists of tomatoes, potatoes, peppers and eggplants. Don't plant any of these vegetables the year following your potato crop as tomato plants should be preceded by a bean crop in order to replenish the soil of needed nitrogen.
Eggplant
Eggplant is a crop that uses nitrogen and should never precede or follow a potato crop. In addition, eggplant -- like tomatoes, peppers and potatoes -- are all more susceptible to the same potato blight that can ruin tomato plant crops. Planting crops in successive years that are at risk for blight damage is not recommended, reports The Helpful Gardener.
Crop pests lay eggs in the soil that might not affect your current year's crop, as they might not be hatched yet. If you then go on to plant a crop from the same family the next year, you set your crops up for a failure they wouldn't experience if a crop had been introduced that wasn't susceptible to that particular pest, according to The Northwestern.
Peppers
A pepper crop should never precede or follow potatoes. In fact, peppers need soil with a slightly lower pH than potatoes or eggplants, according to Virginia Tech's Virginia Cooperative Extension. Plant squash prior to peppers -- not potatoes -- and follow a pepper harvest with beans.
Significant
If you plan to plant potatoes the year following a potato crop, but in a different location from the previous year's garden, plant the crop a minimum of 1/4th mile from last year's location. Planting even a short distance from the original crop helps reduce the potential of a Colorado potato beetle infestation. According to Ohio State University, this type of beetle may fly that far in order to affect your new crop, and if that happens, additional chemical controls may be necessary. Combining a greater distance between the old crop planting location and the new one along with regular insecticide use are the best ways to fight the Colorado potato beetle.