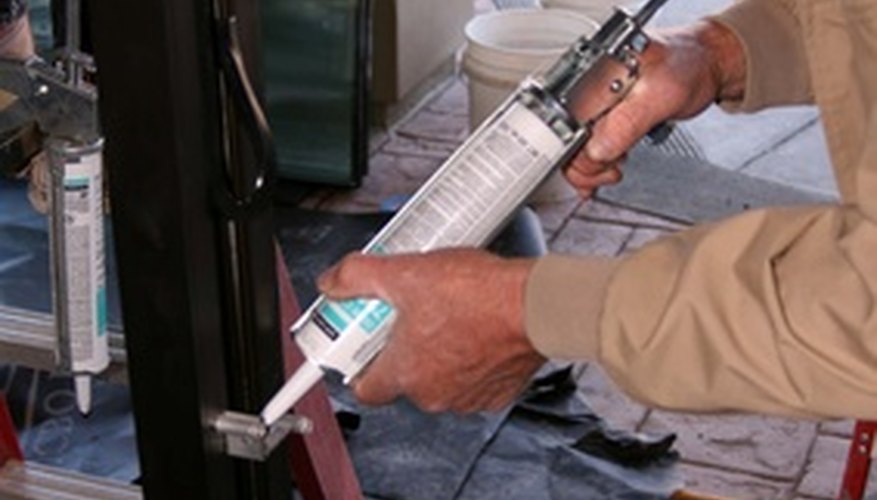 The American Society for Testing and Materials (ATSM) sets international standards for materials, systems, and products. ASTM C-920 refers to the ATSM specifications for the properties of elastomeric joint sealants. In layman's terms, elastomers (elastic polymers) are synthetic or natural rubbers. Synthetic rubbers include acrylics, butyls, latex acrylics, polysulfides, polyurethanes, silicones, and silyl modified polymers. Elastomers are used primary for weatherproofing in residential, commercial and industrial applications, as they provide a waterproof seal and can expand or contract in hot or cold weather and still maintain their original shape.
Windows and Doors
When installing windows, construction workers will lay a bead of silicone or latex acrylic around the edges of the window frame. When the window is nailed into place, the ASTM C-920 product will provide a rainproof barrier so that the exterior of the house does not rot from accumulated moisture. Contractors also use silicone or acrylic to seal cracks around a door after installation.
Bathrooms
In residential or commercial installations, ASTM C-920-approved water-based latex is used. Fiberglass-surrounded bathtubs require a waterproof barrier between the wall and the tub so that water does not seep into the drywall and rot the frame of the house. This same caulk will be applied around the countertops of bathroom vanities so that moisture does not accumulate between the wall and the countertop. Latex caulk may also be applied on the top of floor trim for the same reasons.
Roofing
Vent pipes are used in order to prevent the backup of foul odors in bathroom piping. These vent pipes usually stick out of the roof. In this instance, ASTM C-920-approved acrylic or silicone caulk will be used in order to seal the gap between the pipe and the roof. This caulk is also applied after a worker installs aluminum flashing to the exterior of a house.
Pavement
Sidewalks, parking decks, highways, and bridges are usually poured in sections called slabs. The reason is that hot weather causes pavement and concrete to expand, while cold weather causes these materials to crack. With a single slab, there is no room for movement, which causes cracks. In order to weatherproof the seams between slabs of pavement and concrete, road workers will use specially formulated ASTM C-920 polyurethanes in order to fill the gap. Polyurethanes fall into ASTM C-920 classes 12 ½, 25, and 50, which refers to the percentages that the polymer is able to expand and contract and still return to its original form.