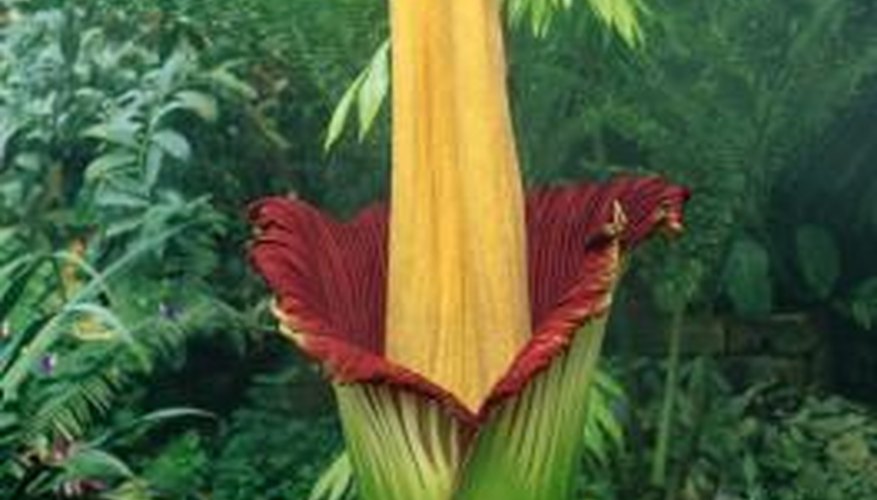 Beautiful flower blossoms are all the more precious when they are borne on rare or endangered plants. These flowers will not be making an appearance at your local florist or garden nursery, and many grow only in a few small botanical garden collections. The top 10 rarest flowers in the world span the globe and range from delightful and fragile to enormous and putrid.
Middlemist's Red
The Middlemist's Red is a rose-colored camellia (Camellia spp.) originally from China but now known to be growing in only two locations: an estate in New Zealand and the Chiswick House and Gardens in West London, England. Chiswick House is seeking additional individuals to grow these flowers in order to conserve the species, BBC News reports.
The Franklin Tree
The Franklin Tree (Franklinia alatamaha) is extinct in the wild and grows in only a few estates in the world, including the Trewithen Estate in Cornwall, England. It is a member of the tea family, but its large, white, cupped blossoms resemble those of a wild rose.
Seven-Son Flower
The seven-son flower (Heptacodium miconiodes) is a member of the honeysuckle family, known to be growing wild in only nine locations in its native China. Specimens in the United States are cultivated at the Arnold Arboretum in Boston and the W.J. Beal Botanical Garden at Michigan State University. Its white jasmine-like blossoms appear in ringed clusters of seven.
Wild Blue Lupine
The wild blue lupine (Lupinus perennis) is a native of sandy, open but shaded places in the eastern United States. It is characteristic of the rare, shrinking pine barrens ecosystem, where it plays a critical role in the life of the endangered Karner blue butterfly, according to the New Hampshire Fish and Game Department.
Big Leaf Magnolia
The big leaf magnolia (Magnolia macrophylla) bears the largest flower of any tree in North America, according to the North Carolina State University Extension. It is found in only a few locations in the southeastern coastal United States.
Schweinitz's Sunflower
The bright-yellow blooms of Schweinitz's sunflower (Helianthus schweinitzii) are known to grow in only 16 isolated locations in North Carolina and South Carolina. It grows on the edges of upland woods in loose, gravelly soil.
Nepenthes Tenax
Nepenthes tenax was discovered in Cape York, Australia, in 2008, according to the Conservation Report. It is a variety of pitcher plant known to consume small rodents.
Drosera Capensis
The Cape sundew (Drosera capensis) grows only in the southwestern Cape of South Africa. It entices insects, which get entrapped on its sticky tines, where they are then absorbed by the plant.
Showy Lady's Slipper
The showy lady's slipper (Cypripedium reginae) is a member of a family of North American wild orchids growing in moist forest soils. This variety bears white and fuschia blossoms in diffuse wild populations. Lady's slippers are not generally cultivated, as commercial harvest is restricted by law, according to the Minnesota Department of Natural Resources.
Corpse Flower
The most dramatic rare flower in the world is the corpse flower (Amorphophallus titanum). A native of Sumatra, its blossoms reach 6 feet in height and 3 feet in diameter, and stink of rotting meat.