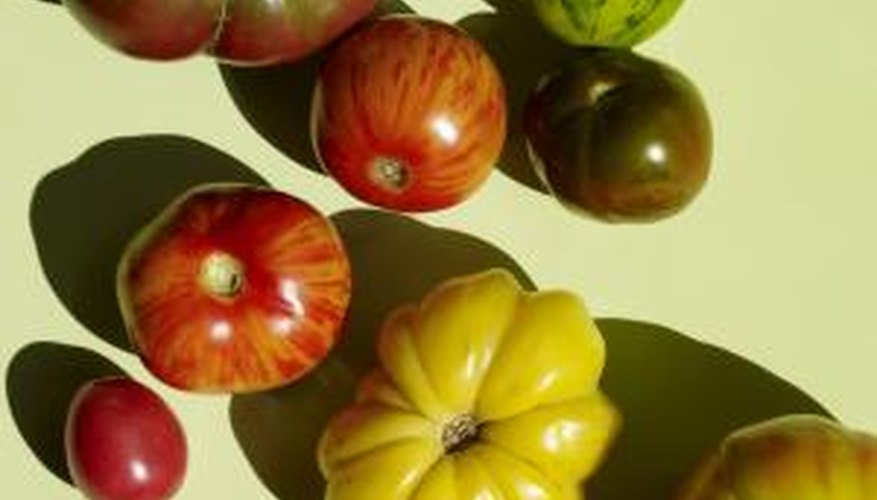 Tobacco belongs to the Solanaceae family, commonly known as the nightshade family. It has some relatives likely growing in your vegetable garden or stocked as staples in your pantry. Aside from the nightshade family's interesting family makeup, understanding the relationships between vegetable crops helps you to plan your garden, since diseases and pests of one often also afflict other nightshade species as well.
Tomato
Tomatoes belong to the nightshade family, a family with both edible and toxic plants. Tomatoes were widely believed to be poisonous until the 19th century, as their high acid levels had a habit of leeching lead out of pewter plates, causing lead poisoning. Today, tomatoes are indispensable in most kitchens -- the West Virginia University Extension reports that the average U.S. citizen eats 22 pounds of tomatoes per year -- and popular in vegetable gardens. The relationship between tomatoes and tobacco reveals itself in the susceptibility of both to tobacco mosaic virus, a damaging disease spreads to tomato plants after handling cigarettes and other tobacco products that contain infected leaves.
Pepper
Peppers belong to the nightshade family. The pepper or chile classification itself contains diverse members from sweet and mild bell peppers to scalding hot habañeros. Their diversity provides peppers with a variety of culinary uses, while the heat of some peppers gives many people distaste for them. Peppers catch many of the same diseases and pests as tobacco and other nightshade plants, so avoid planting nightshade plants multiple years in a row in the same spot in your garden.
Jimsonweed
Among tobacco's inedible relatives is jimsonweed, an attractive but invasive weed found throughout the world. The flowers and foliage of jimsonweed are highly toxic, and livestock have died from consuming them, according to Floridata. Jimsonweed unfolds trumpet-shaped and fragrant purple flowers throughout the summer that last for one day before dropping away. Control jimsonweed around plantings of other nightshade crops since, as a relative, it can harbor diseases and pests that spread to your cultivated plants.
Potato
Potatoes form another edible tobacco relative and member of the nightshade family. Unlike tobacco, produced for its leaves, and tomato and pepper, produced for their fruits, underground tubers provide the edible part of the potato plant. Potatoes share many of the same disease and pest susceptibilities as their relatives, a fact to keep in mind when planning crop rotations in your vegetable garden.