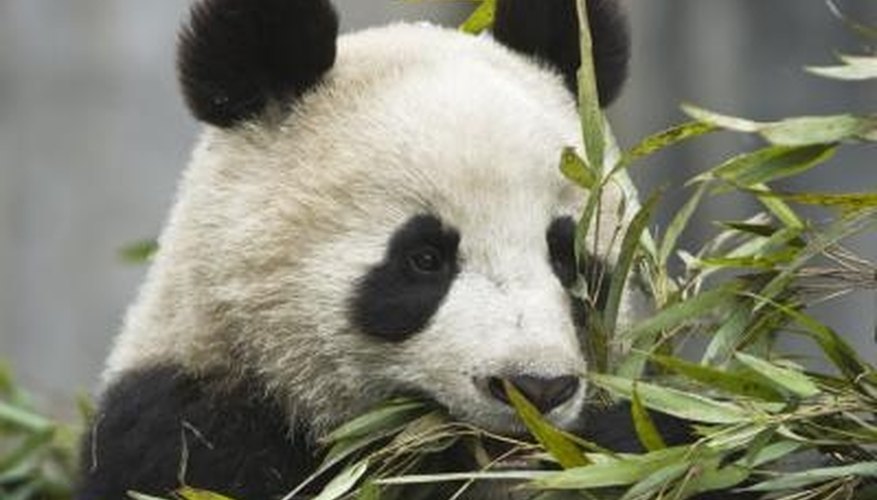 Despite its popularity, the giant panda is an endangered species--according to National Geographic, there are only about 1,000 left on Earth. The magazine's website reports that about 10 percent of these pandas live in captivity, where they may feed on a variety of bamboo shoots and leaves, potatoes and specially formulated biscuits. The rest of the panda population, however, lives in the wild, where they feed almost exclusively on bamboo. The reasons for this bamboo-heavy diet range from habitat to evolution.
Location
Giant pandas live in dense bamboo forests in western China. Though these forests once spanned a greater area, the Smithsonian National Zoological Park reports that forest clearing and development have forced pandas into the mountains. According to the San Diego Zoo, where panda lovers can see the creatures, bamboo is the panda's main source of food because it's so plentiful in its natural habitat--it is literally all around them. Since pandas have difficulty digesting bamboo, they have to consume a lot of it--at least 28 lbs. per day--so they need to live in an area well-stocked with bamboo.
Thumbs
According to the educational nonprofit organization Globio, Pandas have lived in the dense bamboo forests of China for millions of years, so they have a genetic predisposition toward foraging for and eating bamboo. Not only does instinct guide them to eat bamboo--they spend 10 to 16 hours every day doing so--but they also have physical developments that help them eat it. A panda's front paws are genetically designed to holding bamboo stalks, making it easier for them to hold it in their paws while they eat. Thanks to their specially formed wrist bones that function much like thumbs, pandas are able to hold and eat bamboo.
Teeth
Pandas generally focus on eating the shoots and leaves of the bamboo plant, as they are the most nutritious part. To accommodate this, a panda's teeth are flat and broad--the ideal shape for crushing and grinding plants. Though pandas are also known to occasionally eat fish and other meats in the wild, their teeth are not as well-suited for such a diet.