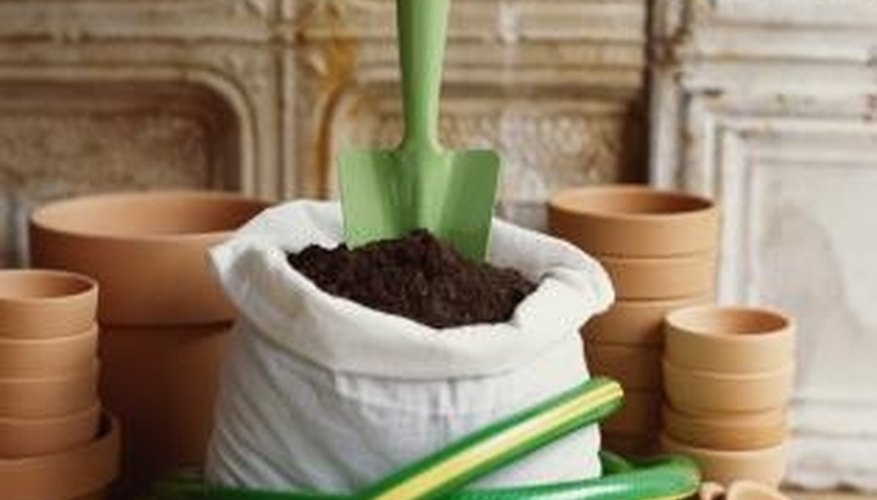 Indoor fruit and vegetable gardening can be a relaxing and useful hobby. Indoor gardening is perfect for those who wish to continue growing during the winter, or who don't have enough outdoor space for a garden. Container gardening is the easiest and most common method of indoor gardening. Nearly anything that can be grown outdoors can be grown in a container, though there are certain plants that are better suited to container growing.
Herbs
Herbs are the easiest plants to grow indoors and are a perfect starting point for the would-be indoor gardener. Basil, parsley, mint, sage, thyme, oregano and other herbs all do well. Herbs are fast growing and don't require deep pots for their roots. Like all plants, however, they require adequate light, which means ideally eight hours or more per day. If you don't have a well-lit window, you will need artificial lighting to help your herbs grow.
Tomatoes
Tomatoes are also excellent choices for indoor container growing. They do require fairly deep pots to allow their roots to grow, and they must have enough light. Unless you have a very well-lit south-facing window, you will probably need artificial lighting to grow tomatoes, especially in the winter. Cherry tomato varieties are good choices, as they can be planted in small containers. As long as you have sufficient space, however, you can grow any variety of tomato indoors.
Peppers and Eggplants
Both peppers and eggplants do well in containers. Like tomatoes, they must have enough space for their roots to grow, and adequate lighting. Peppers especially must also have warm enough temperatures to thrive. All varieties of peppers and eggplants can be grown indoors, but small varieties are the best choice as they take up the least space and can tolerate smaller containers.
Root Vegetables
Root vegetables can also easily be grown indoors, as long as the containers they are in are deep enough. The container should be slightly deeper than the final length of the vegetable. Carrots, onions and beets are all excellent choices.
Lettuce and Leafy Greens
Like herbs, lettuce and other leafy greens are great choices for indoor gardening because they only need very shallow containers and they mature quickly. Small salad mix varieties are ideal, and most plants will continue to grow back once they are cut, providing you with a good amount of greens from a relatively small container. As with all other plants, make sure there is enough light.