A tree kangaroo is a large marsupial that lives in trees and is an excellent climber and jumper. There are 14 species of the marsupial that are native to tropical forests in Australia and New Guinea. A little over four feet tall, the tree kangaroo weighs about 15 to 25 pounds. The tree kangaroo is an endangered creature because of loss of its habitat.
Description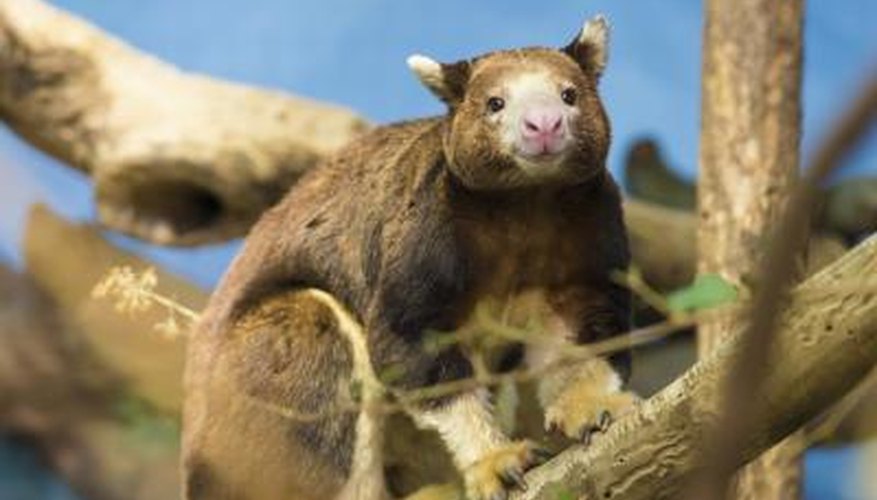 A tree kangaroo has thick brown or reddish brown fur and possesses a dark stripe down its back. The marsupial's stomach, tiny ears and feet are bright red. The creature's face is yellow or white in appearance. Unlike the ground kangaroo, the tree kangaroo has limbs that are about the same size in length. The tree kangaroo owns a long narrow tail that helps with balance and curved claws on its feet to help with climbing.
Diet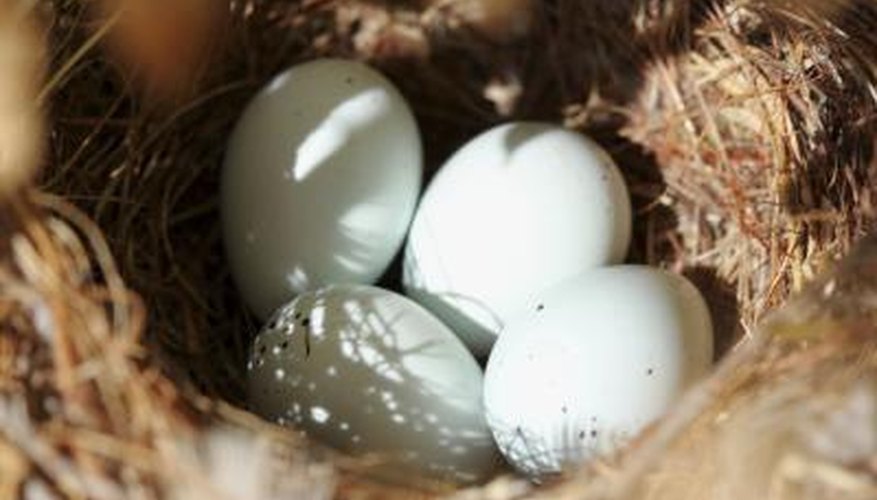 As a tree dweller, the tree kangaroo is partial to consuming leaves, fruits, flowers and nuts. The creature also has a diet of grains, saps, bird eggs, young birds, moss, grass, ferns and tree bark.
Young
A female tree kangaroo typically has a gestation period between 39 and 46 days, making it the longest gestation period of any marsupial. A female gives birth to one young, called a joey. After birth, a joey stays in its mother's pouch for nearly 10 months. During this period, the young tree kangaroo nurses inside the mother's pouch. At about 10 months, the joey makes its way out of the pouch for the first time. Around 18 months, the joey will leave its mother and establish its own home.
Decline of Population
Tree kangaroos are endangered because much of the creature's habitat has been cut down for logging, mining, oil exploration, or farming. The loss of its habitat makes the creature prone to be preyed on by dogs. Tree kangaroos have also been overhunted as natives consume the marsupial's meat. Some species, such as the Wondiwoi, are extremely low in numbers or possibly extinct.
Behavior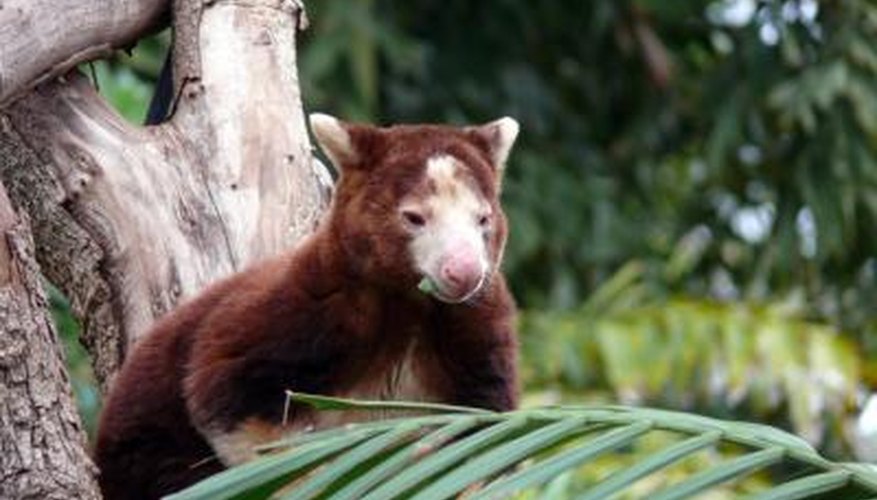 Tree kangaroos are mostly solitary creatures, except when it comes to mating. Males will reproduce with multiple females. Females stay independent and only form a bond with its young. Nimble climbers, some tree kangaroos are capable of leaping up to 30 feet from tree to tree and can jump up to 60 feet without getting hurt. Throughout the day, the tree kangaroo eats intermittently and spends more than half of its day sleeping. The tree kangaroo is the only member of the kangaroo family that is arboreal.