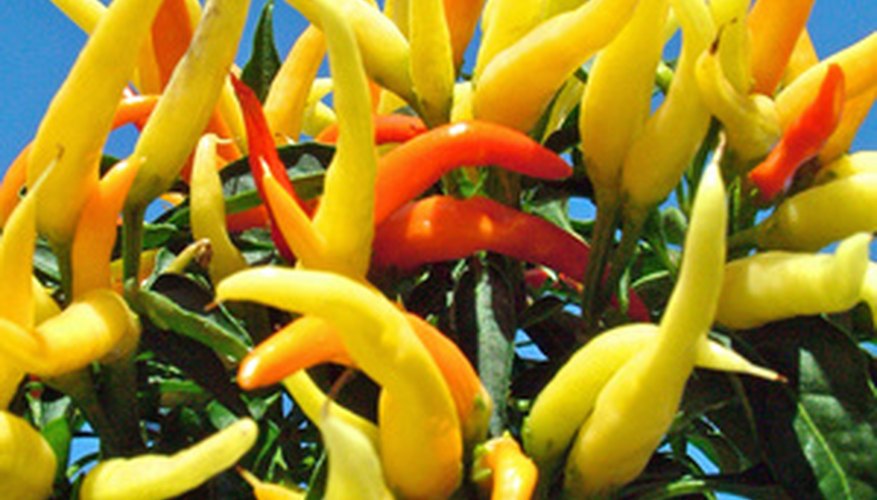 Spicy hot sometimes comes in small packages. Mini pepper plants are boldly colored, and in some cases, quite prolific. They grow well in containers and can be kept indoors on a permanent basis or just brought in when the weather turns cold. Not all varieties are edible, but the mini peppers that are tend to be just as fierce as the Chihuahua that wants you to think he's a Great Dane.
Twilight Pepper
The 2-foot-tall Twilight pepper plant produces tiny 1 inch peppers that pack quite a heat punch. The pepper fruits develop as tiny yellow buds. As they grow they turn purple, orange and then red. This edible ornamental pepper thrives in warm climates and in containers and was developed in New Mexico.
(ref 1, about 1/3 of way down)
Peruvian Purple Peppers
The tiny 1-inch long purple peppers on this Peruvian native are egg shaped and grow upright rather than hanging down. As the peppers mature they turn a deep red. Tasters have rated them from mild to as being as hot as the tiny Thai pepper. The plant grows to about 2 feet tall and is planted as both an ornamental and an edible pepper.
Thai Ornamentals
Thai ornamental pepper plants only grow to be about 18 inches long, but their tiny thin peppers are very hot. The peppers start out green and as they mature they turn yellow, orange and then bright red. These plants grow well in containers, especially in flower boxes. The prolific plant will produce its potent, sky-pointing peppers for months. Thai restaurants often use the fruits in entrees. Sometimes when ordering, they ask if you want "one, two or three pepper hot." If you aren't used to hot food, try the "one pepper" and try not to bite down on it when you are eating.
Holiday Peppers
Tiny, multicolored ornamental peppers are often used to accent Christmas and other holiday decorations. Mostly non-edible, these plants mature in the fall and stay vibrant well into the winter season if kept inside. There are several varieties and they come in colors ranging from bold reds to orange to brilliant yellows. These ornamentals are sometimes used for edging plants in outdoor gardens. The Fiesta pepper, which is also known as the Christmas pepper will produce fruits for up to 90 days. The Poinsettia pepper forms fruits that are circular and look like poinsettia leaves. The Nu Mex Twilight pepper is sometimes used to make wreaths. The fruit of this plant starts purple and ripens to red.