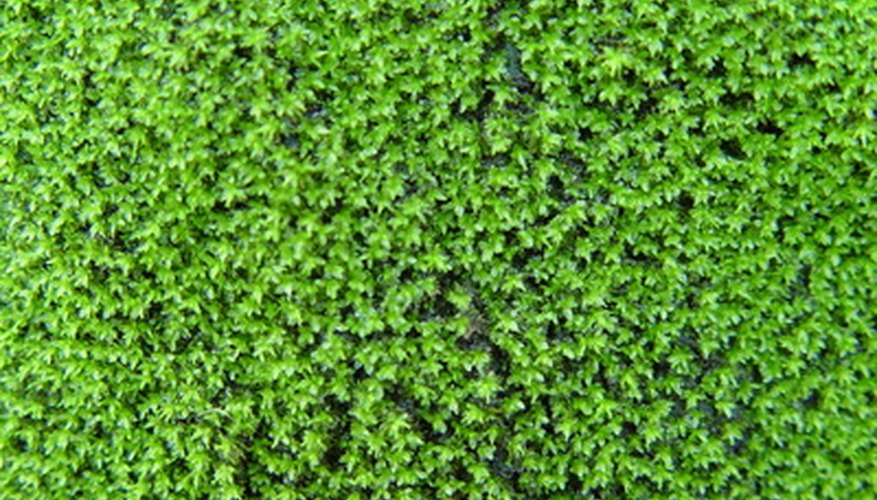 Herbicides and other types of lawn chemicals may not be effective against the mosses in your yard, which are root-less, flower-less green plants that form in clumps and carpets. Fortunately, many manufacturers produce liquids, or granules, specifically for combating mossy infestations. According to Washington State University, most of these products contain either specialized soaps or ferrous ammonium sulfates as their active ingredients. Neither of these ingredients will produce harmful effects on the environment.
Moss-Out
According to Oregon State University, the Moss-Out line of products relies on ferrous ammonium sulfate as its active moss-killing agent. The brand has several different product formulations and applications methods, including the standard, liquid Moss Out for lawns, which you pour on to affected areas; the Hose 'n Go Moss Out for lawns, which you attach to a hose and spray on to moss; and the Moss Out Lawn Granules, which you apply by spreading or sprinkling. As Oregon State University warns, just make sure to keep the above products away from sidewalks and driveways, as they can cause staining. Alternatively, you could select from Moss-Out's Roofs and Walks line of products, which are advertised as safe for use on concrete and other surfaces.
Safer
The Safer Moss & Algae Killer & Cleaner is effective against moss, lichens, algae and grime, and is safe for use on roofs, decks and fences as well as lawns. The liquid moss control product comes in a spray bottle, and uses an herbicidal soap as its active ingredient. This soap consists of biodegradable fatty acids and potassium salts, which dehydrate, or dry out the moss or other organisms in order to eliminate them. Safer, as its name implies, is safe to use around pets and children, and will not cause harm to nearby vegetation.
Moss Max
Similar to Safer, Moss Max Killer from the Bonide company comes in a spray-bottle, and uses a potassium soap as its active moss-killing agent. You can use the product on decks, roofs, trees, fences, buildings, patios, walkways and lawns without having to worry about staining or other damage. In addition to eliminating moss, Moss Max is effective against lichens and algae, and is useful for cleaning away slime.
Scotts
Scotts Moss Control Granules come in a granular application, like the Moss Out Lawn Granules, which means you must spread them over your lawn or other affected areas. The Scotts granules, however, utilize ferrous sulfate monohydrate as their active ingredient, as opposed to ferrous ammonium sulfate. Be aware that ferrous sulfate monohydrate is toxic to humans and animals.