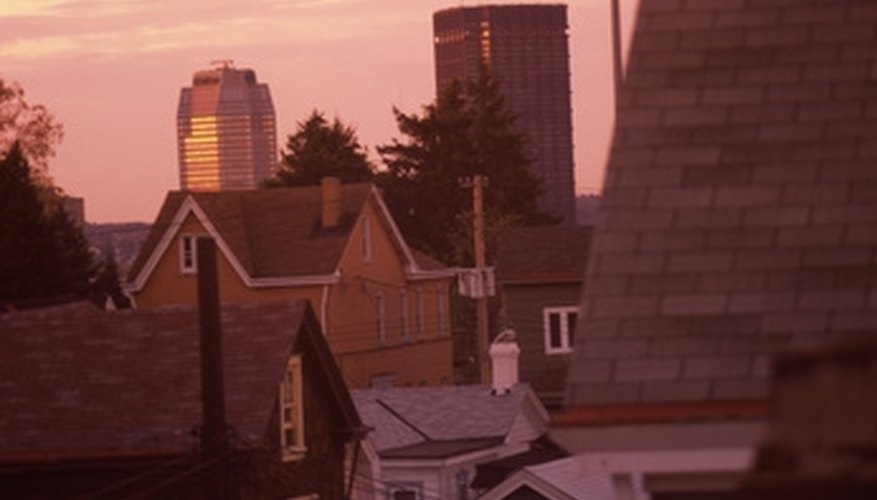 You don't need to know the entire Pittsburgh building code because the city's stringent permitting process makes sure your construction project follows its checklist of requirements. Before you build a one- or multi-unit residence, remodel an existing residential property, or add a deck or pool, make sure your property is zoned for such structures. The Zoning Office, or Land Use Control Division, of the City of Pittsburgh is responsible for making and enforcing zoning decisions, and even requires zoning approval in some cases for adding signs, fences, additions and garages.
Occupancy Permit
Once you've received zoning approval, you need to file an Occupancy Permit Application. If the property has more than one residential unit, this permit is required for any new construction or remodeling, including many structures that do not require a building permit per se. Occupancy permits are also issued by the Zoning Office.
Residential Building Permit
Your licensed contractor must apply at the Zoning Office for the building permit; permits are required for new construction, additions, and enlargements to existing structures, and alterations or repairs of any kind. During this process, the city will make sure you do not have any outstanding code violations, and an engineer will review and approve, or disapprove, your plan. Approval is followed by payment for permit and three inspections during the construction process: footer or foundation approval rough-in or framing, plumbing and wiring approval; and final inspection and approval.
Electrical and HVAC Permits
You must obtain separate permits for any electrical wiring going into the structure as well as any heating and air conditioning (HVAC) additions or changes. You may obtain these permits through the mail or in person; you do not need your contractor for this part of the process, but he does have to sign the application(s). There are two types of application for each: one- and two-family dwellings, and multi-family dwellings of more than two units. The Bureau of Building Inspection processes these applications and issues the permits. The electrical and HVAC work should be performed prior to the rough-in inspection; it is your responsibility, or your contractor's, to contact the building inspection office for this inspection.
Permits for Decks, Swimming Pools and Other Structures
Even if you are not modifying the main residence itself, you do need a building permit to put in a swimming pool or add a deck or porch. Permits for these projects are the same as new construction or remodeling permits. They must be obtained by a licensed contractor via the Land Use Control Division zoning counter.
Non-Building Permit Construction
Although most of the following projects do not require a building permit, they do require an Occupancy Permit; while obtaining the latter, make sure you do not need a building permit. These projects include open decks 30 inches or less from the ground, fences under 6.5 feet, retaining walls under 4 feet, water tanks with less than 5,000 gallon capacity, sidewalks and driveway surfacing, cosmetic painting, tiling, carpeting and finish work. Permits are not needed for above-ground pools, playground equipment, gutters and window awnings.