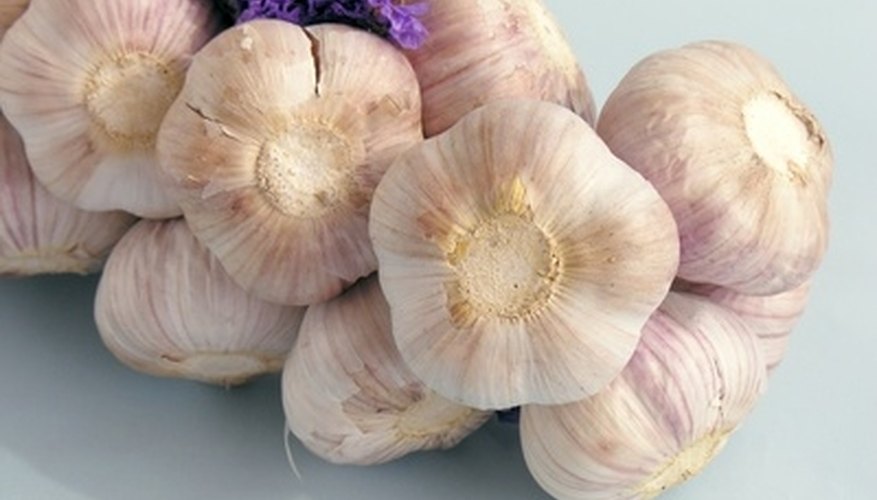 Candida is a yeast infection caused by the Candida albicans fungus, which normally is found in the body but experiences overgrowth under some conditions. The fungus can infect mouth tissues, vaginal tissues, the nose, skin, stomach and urinary tract. Symptoms include white patches in the mouth or cracks at the corner of the mouth, skin rashes in creases of the body or vaginal itching and discharge. Certain herbs have been used to treat candida for hundreds of years.
Garlic
Garlic has natural anti-fungal properties that can be used to fight Candida albicans overgrowth. Eat one clove per day, or take 600 to 900 milligram capsules orally per day, advises the Natural News website. Once candida symptoms are under control, reduce the dosage to 200 to 400 milligrams per day. Garlic capsules can be found at your local drug store or health food store.
Tea Tree Oil
Tea tree oil, which comes from the melaleuca tree, is a topical herbal treatment that can be used to reduce candida overgrowth. A study on the American Society for Microbiology website shows that tea tree oil alters the cell structure of Candida albicans, helping to control its growth.
Black Walnut
Black walnut extract has been used in Asian since ancient times to cure ailments. Tannin, juglone and juglandin are the compounds in black walnut hull extract that are believed to have anti-fungal, anti-viral and anti-bacterial effects, according to the Diagnose Me website. Capsules of the extract of black walnut hulls, when taken two to three times a week, can be helpful in curing candida overgrowth, according to the website.
Pau d'Arco
Pau d'arco is an herb made an Amazon tree's bark that traditionally is used to treat many ailments. The University of Maryland Medical Center website recommends drinking three to six cups of a tea brewed from 2 tbsp. pau d'arco boiled in 1 quart water to help control candida overgrowth. You also can cool the tea and use as a vaginal douche.
Goldenseal
Goldenseal is a member of the buttercup family and its active ingredient is berberine, a compound that inhibits the growth of organisms, such as fungus. Use of goldenseal extract can reduce symptoms immediately and reduce overgrowth in just a few days. According to the University of Maryland Medical Center, the liquid extract can be applied topically to the affected area or diluted and used as a mouth rinse. Goldenseal extract can be found at your local health food store.