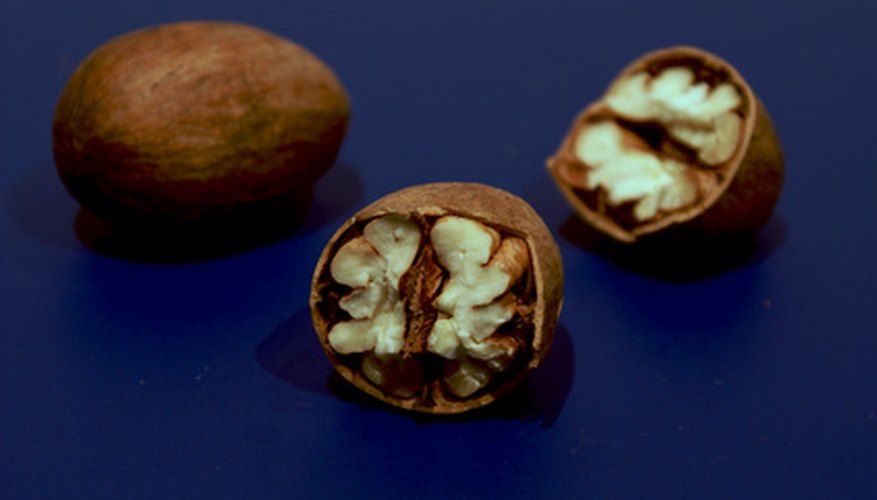 As long as your Oklahoma garden is sunny and contains a deep, fertile, well-drained soil, pecan trees (Carya illinoinensis) grow into nice shade trees that provide a tasty nut crop in autumn. Many of the pecan tree varieties grown in Oklahoma came from trees in Mississippi or Texas; the Oklahoma Agriculture Experiment Station also developed and released pecan trees for use in the Sooner State. Keys issues in Oklahoma are a tree's winter cold tolerance and resistance to fungal diseases like scab.
Pecans for Northern Oklahoma
The Oklahoma Cooperative Extension Service recommends some pecan varieties for the northern counties where winters are longer and sustain colder temperatures. For general discussion, this equates to U.S. Department of Agriculture hardiness zone 6. Caddo, Colby, Giles, Mount, Kanza and Peruque pecan trees are best grown north of Interstate 40 and north of Tulsa. Mount, Paruque and Kanza are so reliable and hardy that they are recommended for cultivation anywhere in the state.
Central Oklahoma Varieties
The Extension Service comments much about central Oklahoma in regard to pecan trees—the region from Tulsa to Interstate 40 south to the latitude of the town of Ada. This comprises much of the populated corridor of the state that is in USDA hardiness zone 7. Shawnee, Stuart, Pawnee and Mohawk are most winter hardy in this area. Mount, Paruque and Kanza are also reliable, fairing especially well after unusually cold winters.
Southern Oklahoma Varieties
Generally speaking, southern Oklahoma is the counties south of Interstate 40, but Oklahoma State University horticulturists also point out the warmest growing region is from Ada south to the Texas border. Here winter temps drop no lower than 0 to 10 degrees F (sometimes known as USDA zone 7b). Choctaw, Graking and Kiowa are best in Ada and south and Wichita is suitable only to the arid counties in the state's far southwest. Between I-40 and Ada, Merramac grows well, and remember that Mount, Paruque and Kanza perform well in southern Oklahoma too.