If you have attended a professional football or baseball game, you have seen intricate patterns in the grass. Or maybe your neighbor cuts his lawn in a spiral pattern you admire but believe you could never achieve. You can create some of these looks at home with planning and practice.
Basic Patterns
Home lawn mowing patterns fall into two general categories, spirals and rows, according to the Popular Mechanics website. The choice depends on the lawn size and type of mower, but they both require the same amount of work and number of turns. Rows usually work better than spirals with a riding lawn mower that cannot make tight turns. A basic row pattern requires straight cuts back and forth across the lawn. To cut in a spiral, begin in an outside corner and mow all the way around the lawn, making the square tighter until you end up in the middle.
Getting Fancy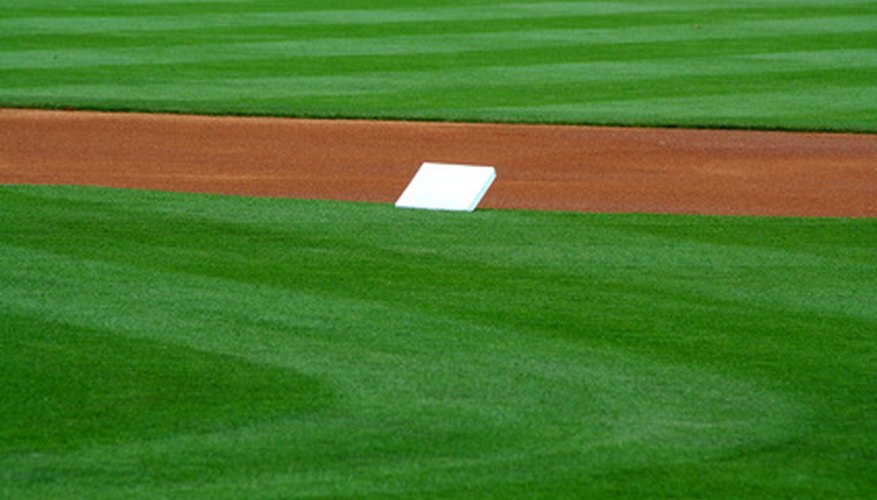 Once you master basic patterns, get adventurous and try something more intricate. You must consider the complexity of the project and calculate the pattern and turns in advance, Popular Mechanics points out. For a double spiral, cut in a spiral pattern, leaving a row uncut between each spiral before reversing direction and going over the uncut rows. You can also divide your lawn into four quadrants and cut each in its own spiral, or even begin at a corner and go up and down in a zigzag pattern, spiral zigzag or a complex labyrinth pattern.
Professional Patterns
Professionals create fancy grass patterns at ballparks using a combination of mowing and rolling, according to major league groundskeepers writing for the Grounds Maintenance website. The patterns result from how light hits the grass, depending on the direction the grass bends. Professional equipment for the job includes a reel mower or sweeper, which shapes the grass in the right direction. You can outfit a home mower with a roller to achieve a similar effect, the groundskeepers say.
Getting Started
While very complex patterns should perhaps stay in a professional ballpark, you can achieve a professional look at home. Clear your lawn completely and start with a lush, healthy lawn. Start with a carefully planned and researched pattern. Mow first with a rotary mower, and then roll in the design with a reel mower without using the blades--or you can use a sweeper for the same effect. Go slowly and make gentle turns to reduce wear on the lawn.
Tips for Success
Vary the pattern to avoid harming the way the grass grows. Cool-season grasses take best to mowing patterns because they do not need to be cut very short. You will learn more as you begin to do more patterns, which will require planning and research to achieve the look you want.