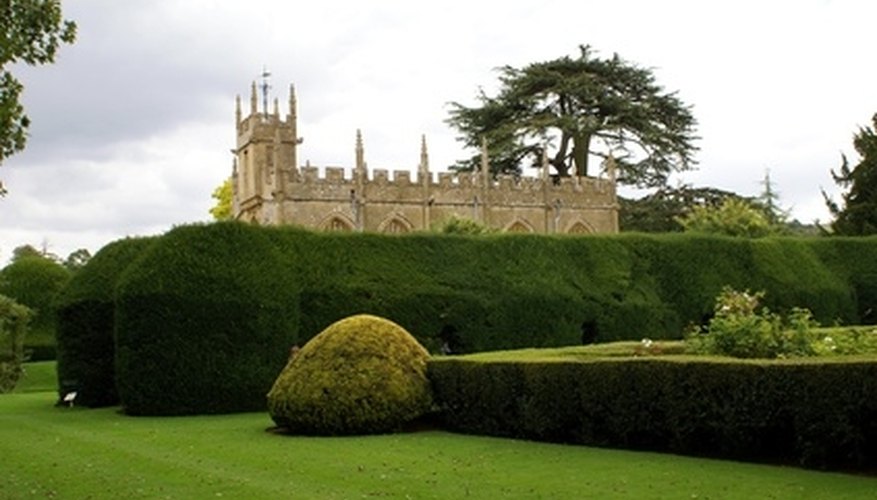 Privacy hedges have become popular for home owners, because hedges create private settings and hide anything taking place from neighbors and people passing by. Privacy hedges can also offer noise control when trees or shrubs are planted in rows, and can act as a wind barrier. Evergreen trees and shrubs offer the best coverage year round. Trees and shrubs with low hanging branches provide dense foliage and extra coverage.
Rocky Mountain Juniper
The slow growing Rocky Mountain juniper (Juniperus scopulorum) can reach 40 feet high and range in width from three to fifteen feet. It grows into a narrow pyramid shape with a number of main stems offering dense coverage. This plant needs well draining soil and can survive drought like conditions. The Rocky Mountain juniper works well for small area privacy hedges because of its small spread.
Heavenly Bamboo
Though heavenly bamboo (Nandina domestica) grows slowly, these plants can reach 6 to 8 feet high and usually measure 2 feet across. This plant will grow into clumps of trees over time, providing denser coverage. Heavenly bamboo is not real bamboo, but instead is included in the barberry family.
Italian Cypress
Italian cypress (Cupressus sempervirens) can grow up to 60 feet high if not trimmed and they grow 1 to 2 feet wide. When fully mature the spread can be larger. The Italian cypress grows slowly in the first year, but speeds up in the second year creating a sleek and round look. Their tops can be trimmed, creating the formal looking hedge.
Hopseed Bush
The Hopseed bush (Dodonaea viscasa) grows up to 10 feet tall and almost as wide. Leaves will be bright green or dark purple and grow to four inches long and 1/2 inch wide in dense patterns. These plants prefer full sun with partial shade and once grown can survive on rainfall. Hopseed bushes work well for larger areas that require a privacy hedge and when trimmed make nice formal privacy hedges.
Cherry Laurel
The cherry laurel (Prunus caroliniana) offers fast and dense growth. They can reach 30 feet high, with a spread of 10 to 12 feet. After being established these shrubs can survive on rainfall. With the dense growth pattern the cherry laurel does well when trimmed and shaped.
Lusterleaf Holly
Lusterleaf holly (Ilex latifolia) has broad leaves and grows 15 to 20 feet tall. Its spread can also grow 15 to 20 feet wide as it grows into a large pyramid shape. This tree has glossy fine-toothed leaves and produces red berries that offer nice contrast to the leaves. Lusterleaf holly needs well-draining soil to maximize growth.