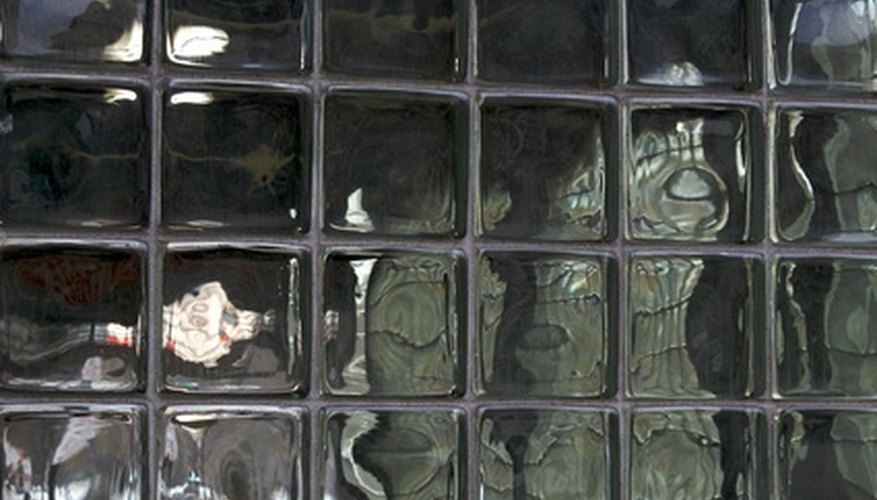 Anything you can do with glass blocks indoors can also be done with them in the yard. Glass blocks provide privacy while letting both natural and artificial light through. Contemporary glass blocks come in every color available and varying degrees of opacity, as well as a range of designs from acid etchings of leaves to wavy panels that look like clouds. They are no longer always square, some frosted and clear glass designs come in multiple colors and shapes from octagonal, to rectangular and even with rounded corners.
Pool Walls
Use glass block three ways in your pool area. Blue or aqua blocks are ideal for the interior lining of a swimming or splash pool because they add depth to the appearance of the pool and give it the desired water color. They also make good material for an infinity edge because they let light into the water below the edge. If you have a small yard space for your pool and want privacy for the pool, glass block wall surrounds allow light in making the area look bigger, but can be built quite tall for privacy from the second floor decks and windows of neighboring properties. Glass blocks can also be used to separate the water of a child's pool or jetted area. It also works well for creating the impression of a bigger pool presence than actually exists.
Garden Walls
If your home has modern, clean lines, enclosing the entire back yard in glass block walls can give you both privacy and a feeling that the property extends past the actual border because the light and images of greenery show through. Glass block also makes attractive windows of light in a solid rock, block or stucco garden wall. For a woodsy and rustic ambiance, frame glass block panels in heavy timber to create garden wall sections. Glass block can be integrated in almost any thick fence or garden wall material. If your existing privacy fence seems to darken your yard, retrofit it with sections of glass block or glass block window panels.
Water Features
There are unlimited potential uses for glass blocks in water features. Create a Koi pond from glass blocks. It can be any shape or size, made of clear or colored blocks, and the mottled silhouettes of the fish swimming near the side adds motion interest to your garden. Almost any reflecting pool or water fountain that can be built of rock, cement or metal, can also be built of glass block. Water features are enhanced by the light that shines through the block, as well as the water running across it and splashing around it.
Pathway Lighting
Glass blocks can easily be drilled and filled with all-weather light fixtures of various types, or simply set in front of existing pathway light fixtures. They make ideal and subtle lights for walkways, and can be decorated in seasonal themes with window paint and decals. Consider using colored blocks on deck rails for a soft, low-light that will not interfere with stargazing on warm summer nights. Or sink lit blocks into the patio floor for a high-impact visual effect that supplies practical lighting as well.