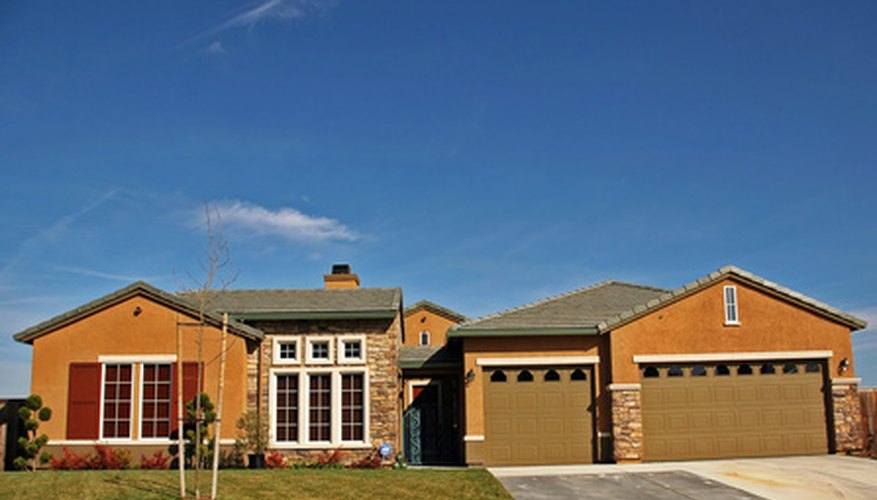 Instead of relying on expensive professional landscapers to transform your front yard, develop your own know-how and do it yourself. Combine landscaping and hardscaping to extend your family's living area to the outdoors and make the most of your property. With a little help from your local home improvement and garden center, you can make your outdoor spaces attractive and usable.
Test Your Soil
Like a blood test for your yard, a soil test indicates what your dirt may be deficient of or overrun with and allows you to fix these ailments before trying to grow and maintain plant life. The test will tell you the makeup of the lawn and its pH level, among other things. According to Lawnfertilizers.com, an ideal makeup for your soil is 40 percent sand, 40 percent silt and 20 percent clay; this mixture is called loam, and your results will tell you how close to that formula you are. As for the pH, a high reading can be brought down with sulfur, and a low one can be raised with lime. Depending on what you hope to grow, you can manipulate these traits accordingly.
Choosing and Placing Your Plants
Take a look at your home and decide what you'd like to plant and where. Remember not to plant trees too close to the house or driveway, as their roots can cause displacement. Decide what colors you'd like to see blooming in front of your home, and then do some research. What kind of sun and shade does each area of your front yard get? Will the plants you've chosen grow in those environments? Perhaps you want mostly greenery with few blooms. Planting in multiple levels can be very appealing to the eye, but make sure you put them in the right order and don't obscure other features.
Plan Your Hardscaping
Homes generally have two main hardscaping features: a driveway and a walk. If you have an existing home or a brand-new home where these have been poured, think about how you'd like to landscape around them. Both are often flanked by flowerbeds, shrubs, trees or fences of varying sizes. If you're creating a walk, you can have concrete poured or use materials like brick, stepping stones, gravel or pebbles to provide a path to your door. If you don't mind pruning, you could place your stepping stones amid a bed of ground covering. Other hardscaping ideas include patios, fences, arbors, trellises, water features, benches, bridges and the stones laid for terracing.
Choose a Style
As you're making your plans, decide if you're going for an eclectic mix of plants, an overgrown English cottage layout or a well-manicured, regal look. Maybe you're hoping for a more rustic Tuscan or minimalist Zen feel. Don't forget to consider the design of your home. A French chateau-style home might look a little odd surrounded by pagodas and ponds full of koi, but perfectly hedged lawns and architecturally pruned topiaries would complete its Loire Valley charm. And if the idea of styling your front yard in a specific manner intimidates you, go for a simple, cheerful look.
Balance and Unify
Some houses, like plantation and some bungalow styles, are very symmetrical. These days, a lot of new homes aren't. Your landscaping doesn't have to be, either, but it should be balanced. The University of Missouri's Division of Plant Sciences explains that balancing your landscaping means putting the same amount of interest and energy one one side as you do the other. Using symmetry achieves this, but it's not the only way. Several small features, like terraced flowerbeds, small shrubs and some hardscaping on one side, can be matched with a few large ones on the other, like trees and larger shrubs. Remember to look at the facade of your house and pull that into your formula. In order to keep it pleasing to the eye, don't let one side get too heavy.