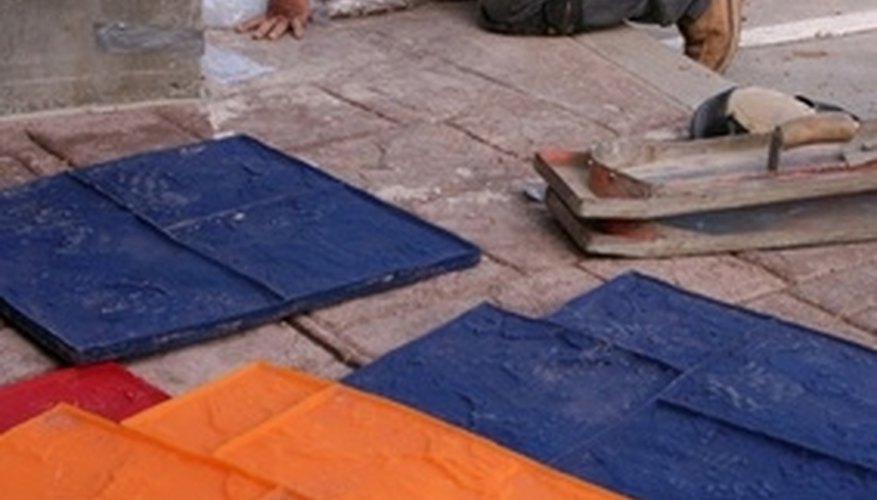 Laying concrete slabs, patios and pathways is more than just mixing and pouring. To achieve a consistent, professional appearance, concrete professionals employ specialized tools and equipment. Concrete construction finishing tools include tools that spread, smooth and decorate concrete surfaces. Learn the names and applications of concrete finishing tools and choose the right tools for your project.
Trowel
The general purpose cement mason's trowel appears as a thin, rectangular piece of metal attached on one side to a U-shaped handle. Each of the trowel's four sides is straight-edged. This tool may be used to pick up, spread and smooth concrete surfaces during the initial phase of concrete finishing. The general-purpose trowel shifts and pushes recently poured concrete to fill voids and gaps. A variation of the general-purpose trowel, called a "bucket" trowel, features an L-shaped handle and is used to easily scoop mortar and concrete from mixing containers.
Float
The float is a trowel-like tool used to flatten and smooth concrete surfaces before the curing phase of concrete construction. Like a general-purpose trowel, the primary component of the float is a thin rectangular plate. Floats may be made of either wood or metal and appear in three basic types: the hand float, darby float and bull float. The hand float, generally the smallest type, features a single, U-shaped handle protruding from its base. The darby float is longer than the hand float and has two handles protruding from its base. The bull float often measures 4-feet or longer and attaches to an extension pole, allowing a mason to extend the tool into the center of large concrete slabs. Masons sweep a float across a freshly poured concrete surface in a gentle motion. This process, called "floating," pushes large aggregate below the slab's surface and allows smooth cement to rise to the top.
Stamping Mat
Stamping mats create decorative designs, faux patterns and impressions across a concrete surface. Stamping mats are usually made of molded rubber and feature indentures that resemble bricks, stone or tile. Stamping mats range in size from a few square feet to more than 8 feet square. After the initial finishing and smoothing of recently poured concrete, a cement finisher carefully lays the mat over wet concrete, allows the pattern to impress upon the surface and then removes the mat.