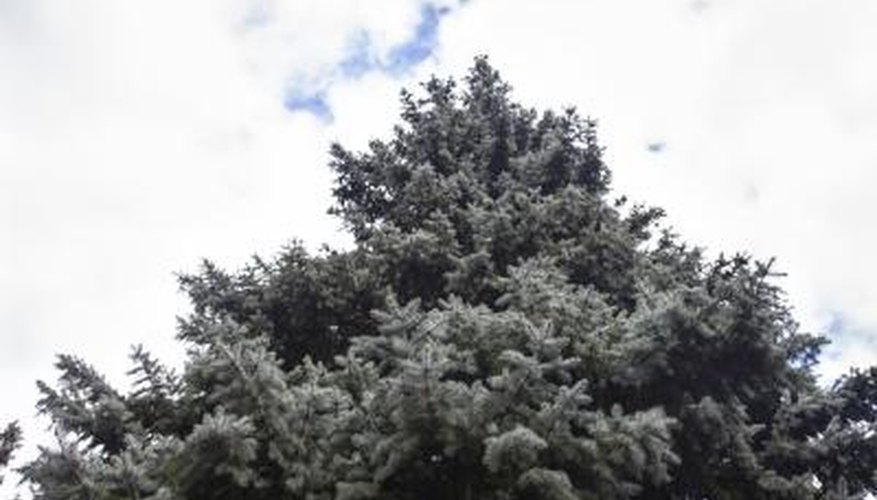 You have many options from which to choose when landscaping your property boundaries -- all add landscape interest and appeal, while some provide privacy or help soften the look of angular boundaries. Whatever you choose, keep plants entirely on your property by siting them at least one-half their mature width away from the boundary line.
Design a Hedge
A hedge forms a living green boundary around your property -- a tall hedge can screen your yard or block an unwanted view, while a shorter one simply marks the property line. For example, the privet (Ligustrum amurense) is 12 to 15 feet tall and about 8 to 15 feet wide. Plant privets 8 to 10 feet apart for a dense, solid hedge; trim them for a formal look or leave them unpruned for a more natural look. Privet grows in U.S. Department of Agriculture plant hardiness zones 3 through 7. For a shorter hedge that doesn't totally block the view but still defines your boundary, use inkberry plants (Ilex glabra "Compacta"), which grow about 4 feet tall and 6 feet wide. A broadleaf evergreen, inkberry grows in USDA zones 4 through 9.
Add a Fence With Plants
Adding a fence along your boundary is an attractive option, especially with plants adding for extra interest. Choose a split-rail fence for an open look that lets you see beyond your property, adding plants such as long-caned roses for garden interest. The cultivar "Veilchenblau" (Rosa "Veilchenblau") is a good choice, spaced 10 to 15 feet apart along the fence. Called a rambler because of its long, arching canes, it has purple-violet flowers -- tie canes to the fence for extra support. If you choose a solid privacy fence, vining plants such as the cross vine (Bignonia capreolata) add visual interest. Its 35-foot-long, woody vines attach readily to any surface and have orange-red flowers in May and June. Both plants grow in USDA zones 5 through 9.
Start a Tree Line
You can also mark your property boundary with a line of trees. For a natural look, stagger your planting line and mix deciduous and evergreen trees. The Colorado blue spruce (Picea pungens "Bacheri") is a good evergreen choice that grows in USDA zones 3 through 8. It's 18 feet tall at maturity and about 8 feet wide, with bluish-green needles and a pyramidal form. The deciduous amur maple (Acer tataricum subsp. ginnala "Flame") grows in zones 2 through 8 and works well interplanted with spruces. About the same height as the blue spruce, it helps soften the deciduous tree's appearance in winter. The maple is wider than the blue spruce, spreading up to 20 feet, so allow about 15 feet between mixed specimens to prevent crowding.
Plant a Mixed Bed
A shrub or flower bed along your property line can make an attractive and interesting border, especially when planted with a variety of choices in different heights and colors. For the rear part of the border, the Japanese false cypress (Chamaecyparis pisifera "Golden Mop"), an evergreen with bright yellow foliage that's about 5 feet tall and wide, is a good choice. Tall perennials, such as "Pacific Hybrid" delphinium (Delphinium "Pacific Hybrid") that are 5 to 6 feet tall, also work well in the rear border. Both grow in USDA zones 3 through 7. Place midsized plants in front of taller ones. The peony variety "Red Charm" (Paeonia "Red Charm") is a good example of a midsized plant that's 3 feet tall with impressive red flowers. It grows in USDA zones 3 through 8.