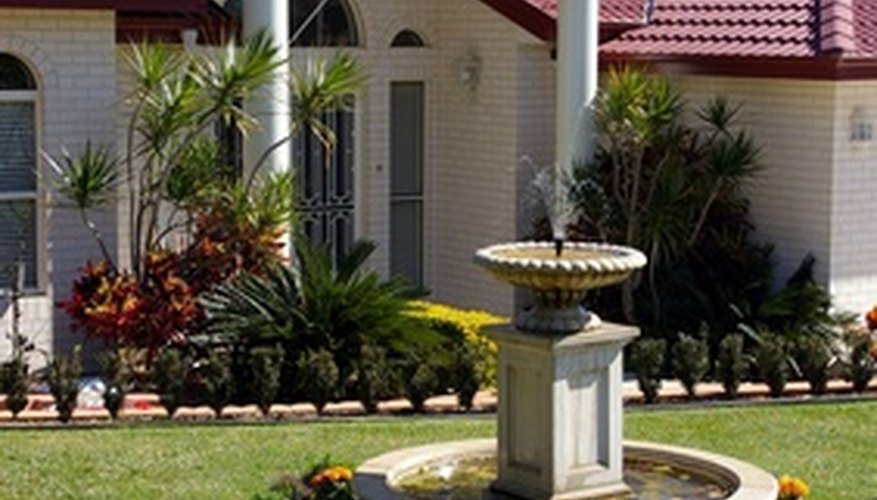 The front entrance to your home is often where a visitor to your home makes a first impression of your entire home. If you are thinking about selling your home, the front entrance is even more important, because it is a significant contributor to curb appeal and increased home value. Landscape design for your front entrance should complement the exterior features of your home through the use of flowers, shrubs, and greenery leading from the walkway to the front door.
Container Gardens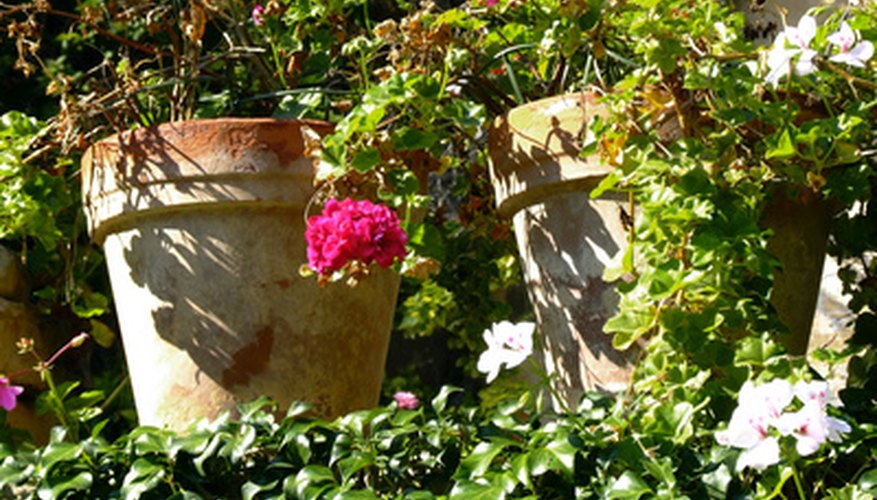 If maintenance of your front entrance landscaping is a concern, consider installing a container garden. David Joyce, author of "The Complete Container Garden," recommends installing a container garden along wide walkways, porch rails or wide stairways, as container gardens on narrow walks or stairways can become tripping hazards. Choose plants that are suited to your climate, but keep in mind that one of the benefits of a container garden is that plants can be transferred inside during inclement weather. Joyce recommends blue star juniper, Japanese pieris, golden sword yucca and creeping Jenny for their hardiness and fullness that creates a sense of lush greenery without investing in expensive, high-maintenance garden installations. Get creative with the containers by selecting a theme; line porch railings with a variety of terracotta pots for a Tuscan feel, or create walkway borders with festively-painted, mosaic pots for a more southwestern aesthetic. Vary the size of the pots; and place small pots on simple wooden stools or stands, to increase the visual impact of the garden.
In a container garden, you do not have to stoop to pull out weeds once a week, which is great for those with limited mobility; however, you may need to water your plants more often, so keep a watering can on hand.
Plant Patterns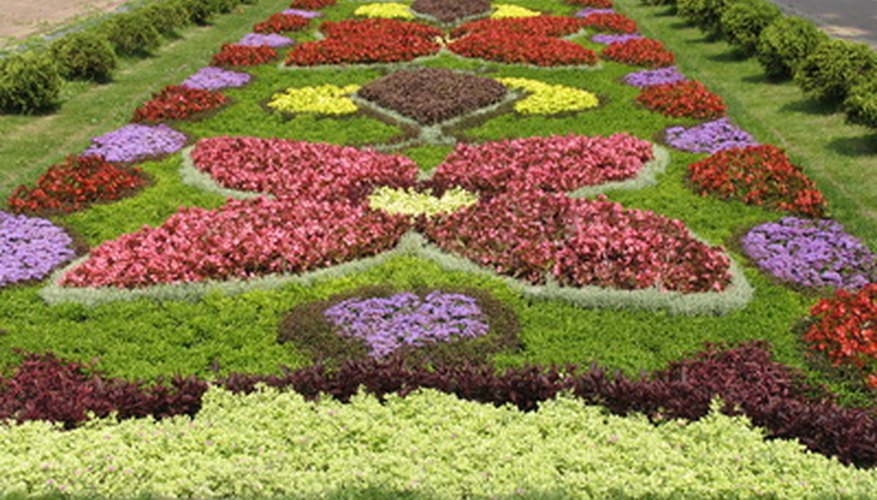 Shrubs and flower beds are staples of well-landscaped front entrances, but make your front entrance stand out by using bushes and flowers in patterns to create visual interest. The landscape team of Gateway Property maintenance suggests framing a stone walkway with a low shrub, such as cotoneaster or boxwood. Place shrubs about three to five feet apart, and fill the spaces with small clusters of flowers, such as marigolds or tulips. To add color, alternate between different monochromatic beds; for example, the first two flower beds could be filled with red tulips and the next two could be filled with white or yellow tulips. Create the illusion of patterns by lining walkways and porches with a variety of plants or bushes in the same species groups. Low palms or low-growing evergreens are available in several cultivations that offer slight distinctions but maintain the same general foliage, color and size.
Flower Beds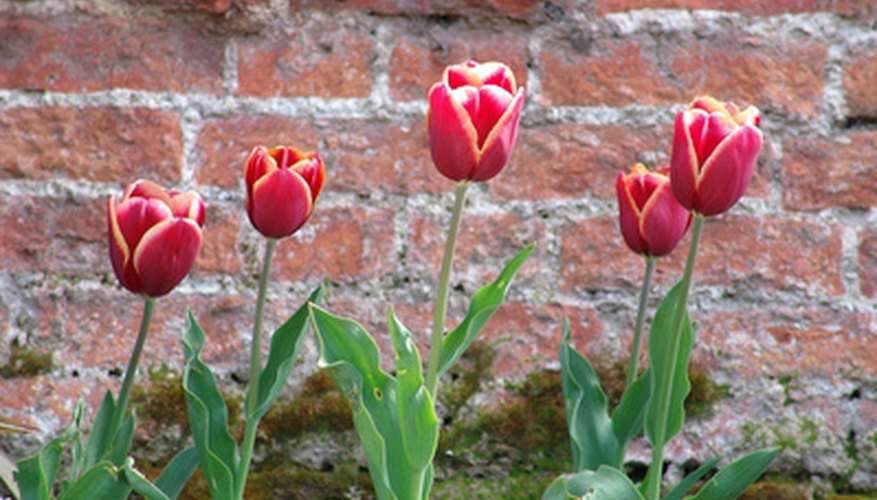 According to Better Homes and Gardens, flower beds are one of the top options for increasing the curb appeal of your home. Flower beds typically require more yearly maintenance, but the potential added value to your home, as a result of beautiful flower beds, is worth the extra effort. For the largest impact, plant flower beds along the front of the home's foundation, to disguise it. Plant full, flowering bushes, like roses or lilacs, at the ends of the home or directly on either side of the doorway. In-between the end caps, plant a variety of alternating flower beds that include a bright array of colors: lilies, zinnias, marigolds and daffodils make colorful beds, in a range of heights, to add vertical interest to the horizontal lines of your home's siding. Line flower beds with dark or red mulch, to finish the look and to mark off boundaries.
Low-Maintenance Options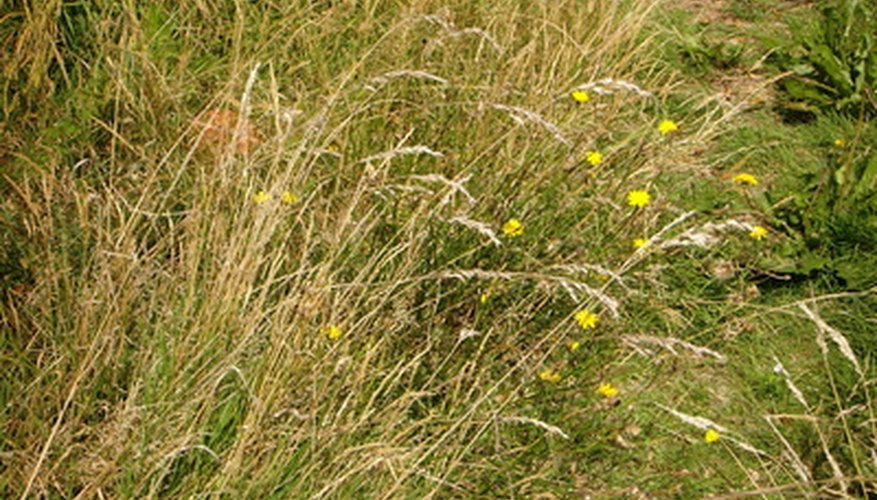 Front entrances do not necessarily require flowers or shrubs to add style to the landscape. Stone gardens and pebble walkways can be just as appealing, without the high-maintenance costs of flowers or shrubs. Lay a stone walkway up to a set of granite stairs; to frame the walkway, install a cascading water feature, made from a series of angled terracotta pots. If you want to include low-maintenance greenery, ornamental grasses, like blue grama or deer grass, add color and shape to an otherwise simple landscape design. Desert flowers, such as desert marigolds and chocolate flowers, require little water, but need full sunlight and high temperatures, to sustain healthy blossoms.