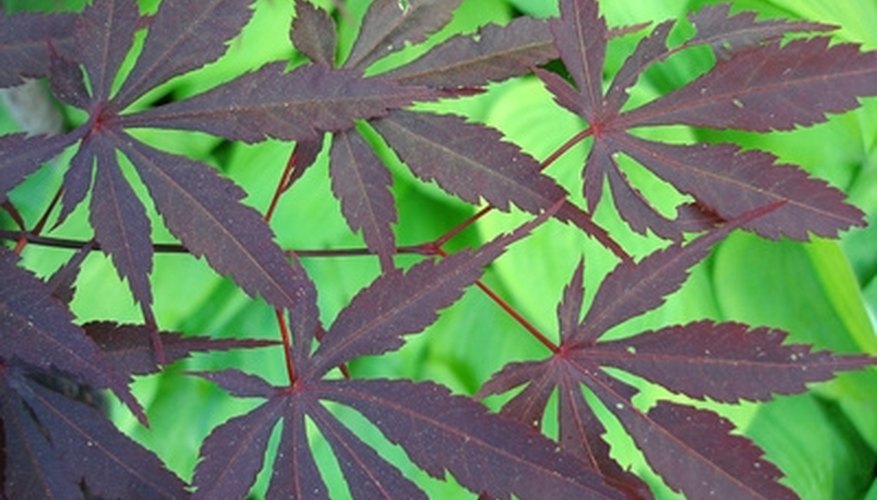 Japanese maple trees (Acer palmatum) are indigenous to Japan, Korea and China. Most landscapes are a suitable habitat for Japanese maples. There are five main types of Japanese maples: variegated, upright, dwarf, laceleaf and bamboo-leaf. Japanese maples can grow anywhere from 6 to 50 feet tall and have a variety of leaf colors.
Variegated
There are two particular types of variegation in Japanese maples. The first involves sections of a leaf or even whole leaves; these trees have foliage with colors of pink, yellow, green and/or white. The second type is called sand-flecked or flecked, where flecks of another color form patches or spots on the leaves. Both types are dwarf-sized. Variegated Japanese maples should be watered regularly and kept away from the harsh afternoon sun.
Uprights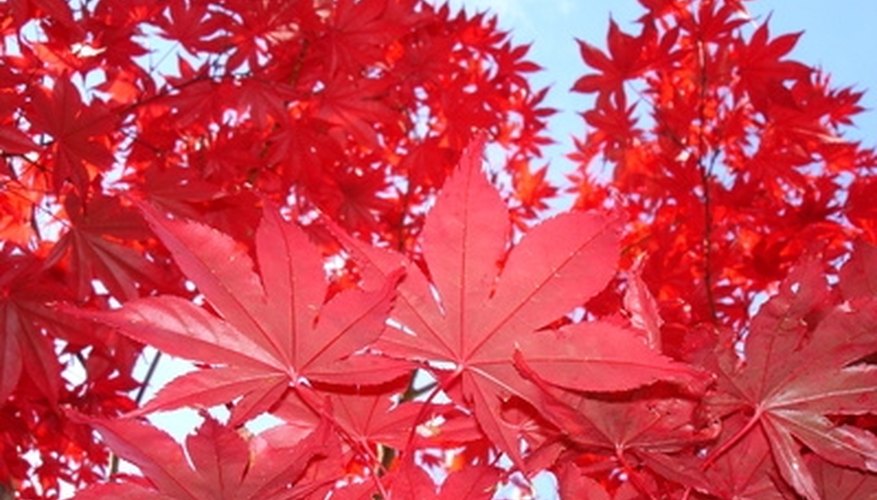 Uprights grow to be large trees of 15 to 30 feet tall. Japanese maple uprights usually have deep creases in the leaves and are available in cultivars with leaves in shades of red, burgundy, pale green and bright green. Of the various species of uprights, the Bloodgood, Osakazuki and Arakawa are the most prized in Japan. Although uprights can grow large, they can still be housed indoors. Keeping them inside will cause the trees to grow only 1/2 to 2/3 of their normal size.
Dwarf Types
Dwarf types of Japanese maple are 3 to 12 feet tall. They usually grow to look like rounded bushes or hedges. These green (and sometimes red) trees are good as indoor plants or in smaller outside gardens. Dwarf types grow slower than most other Japanese maples, but they blossom sooner.
Laceleaf Types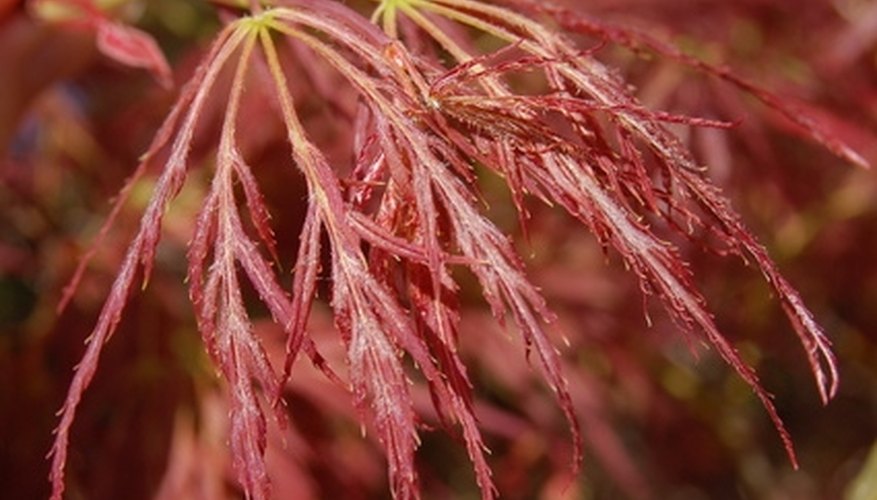 Laceleaf types are also referred to as dissectum types. These Japanese maples usually grow to be only 5 feet tall. Laceleaf types have two main characteristics. First, the leaves are narrow and have serrated edges like a knife, making them appear lacy. Secondly, they are shorter and shrub-like, making their long leaves appear to be weeping. Laceleaf types grow slowly, but have beautiful green and red hues.
Bamboo-leaf Types
Linearilobum, or bamboo-leaf types, are categorized as semi-dwarf trees. They grow between 6 and 12 feet high. The leaves are long, straight and narrow, with a green and red hue. The name bamboo-leaf comes from their resemblance to bamboo. These Japanese maples are very rare and hardly ever found in the wild. They are mainly grown domestically in greenhouses.