Gutters control the runoff of roof water and channel it into specific areas, keeping water away from the foundation. Sometimes the gutters discharge the water out of the downspouts in odd areas where a leader cannot be used, or is inconvenient to use. In this case, a splash guard can be used to direct the water.
Decorative Rain Barrel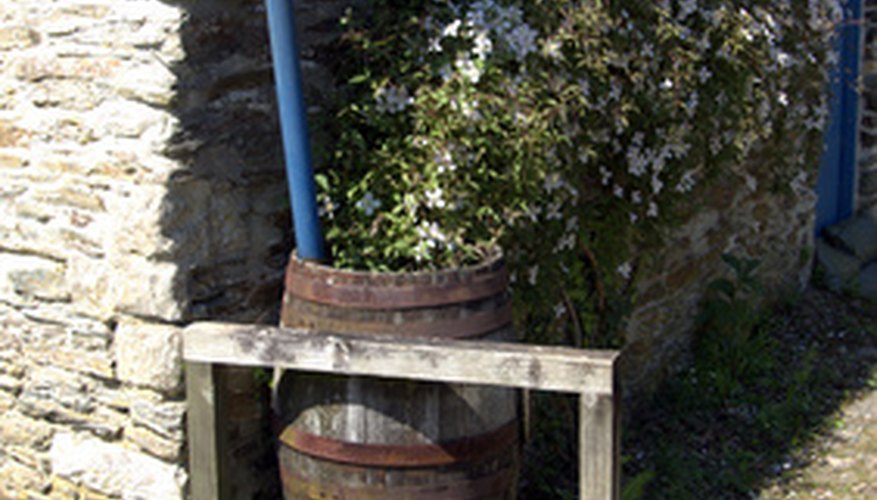 Collect the water from the downspout and use it in your garden. A decorative rain barrel serves as a splash guard while collecting water that can be used to water all of your plants. This is an eco-friendly and cost efficient way to keep your garden looking lush and beautiful all summer long. The rain barrels can be small or large and shaped like pottery or planters rather than barrels.
Custom Concrete Splash Guard
Create your own splash block with concrete. Spray a casserole pan with non-stick spray. Simply take concrete mix and mix it with water until it has the consistency of peanut butter in the casserole pan. Make the sides slightly higher than the middle with a rolling pin and add decorative elements like hand prints, glass pieces or jewelry. Once the concrete sets up, remove the concrete splash block from the pan and place it under the downspout.
Recycled Glass Splash Guard
Take a regular plastic splash guard and add some interest to it with recycled landscaping glass. This glass can be multicolored or consistently colored, providing the area with a focal point that can be tied into other elements of your landscape. The glass is tumbled to make the edges dull so the glass cannot cut you. This type of glass works great in fire pit areas as well.