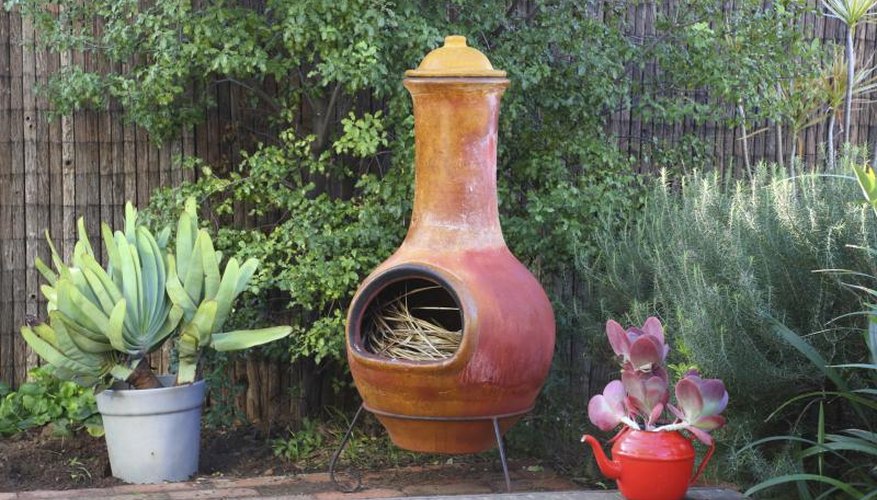 Whether small or expansive, a Spanish backyard is packed with passion: bold colors, rustic surfaces, riotous plants and ornate adornments of a Moorish bent. Wood and stone, iron and clay, tile and plants: All help create an earthy space with distinctively individual elements. The Spanish backyard can ramble and be fit for a hacienda, or simply be a sunny niche providing a haven from urban living. Keeping color, materials, plants and design in mind, create a Spanish backyard on any scale and any budget.
Fiesta Color
Use warm earth tones coupled with bright color to ensure a signature Spanish look for your backyard. Display a mix of glazed and terra-cotta flowerpots and an adobe chiminea as an easy way to begin the transformation. Or, apply stucco and paint to a plain exterior wall abutting your backyard; paint raised cement flower beds an ochre or goldenrod; add insets of Talavera tile to a plain walkway; paint a patio door a bright azure; and adorn patio furniture with colorful cushions. Side tables with mosaic tops add color. A patio table umbrella in chili red or tangerine rounds out the look.
A Hard Place
Whether you have a small backyard or a large estate, some patio space or brickwork helps create your Spanish enclave. Use pinkish-brown Saltillo pavers, stone or even concrete for a patio or walkway. For tight areas, add a modest bricked-in firenpit or a raised flower bed. Or, try a brick sunburst pattern base for a fountain -- for bigger budgets -- or just a weathered birdbath. Installing a thick oaken door as an entry to a large gated or fenced-in backyard creates a grand Spanish effect, especially when topped with a wrought-iron or arched Mission-style arbor. On a smaller scale, dress up a tool shed with curved clay roof tiles.
Plant Life
Many Spanish backyards have a generous amount of hardscaping, but vegetation is crucial to create a varied backdrop. Terraced flower beds spilling over with bright desert flowers and adobe walls covered with climbing ivy inject life into a backyard area. Grassed areas are optional; mulched or crushed stone expanses wending around walkways and patios are more the norm. Depending upon the size of your yard and your temperate zone, opt for either planted or potted -- and portable -- chili peppers, citrus trees, and succulents like sansevieria, dracaena and aloe vera. Cacti of varied heights in painted clay pots help set the mood.
Moorish Musings
A huge part of Spanish culture, the Moorish influence is what has come to set Spanish decor apart from close relatives like Southwestern style. Wrought-iron patio furniture or benches with scrolling designs are important anchors in a Spanish space. Smaller accompaniments such as iron and glass sconces, cage pendants, punched-out lanterns and ornate grates enhance the look. Over-sized wall hangings in busy medallion motifs spruce up an outbuilding or a wall that you are unable to alter. If you can't install anything elaborate or permanent because you rent, find wrought-iron or metal pieces at yard sales, such as trellises, headboards or screens, or deeply carved wooden frames, and lean them against plain walls.