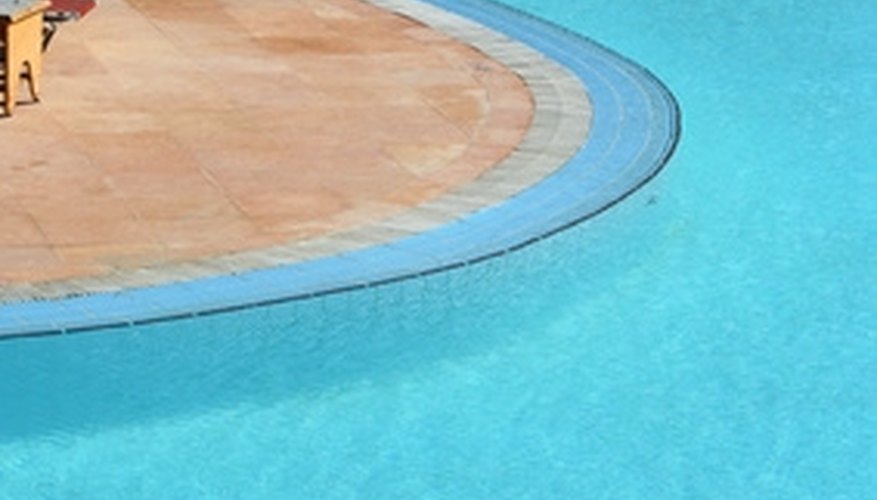 Poolside decks are a place to enjoy the outdoors, play in the water, relax and entertain. Poolside is an extension of your home and spending free time around your pool is the main reason you have one. A wonderful way to spend a hot afternoon or evening is to sit poolside with a glass of ice tea, the barbecue grill smoking and the kids laughing and playing. If your poolside deck looks dingy, and your desire to spend time there has gone away, revitalize your senses with a resurfaced deck and bring the fun back to the outside of your home.
Concrete
According to Concrete Network, one of the biggest trends in outdoor design is a decorative concrete pool deck. Resurfacing with concrete has the greatest amount of choices. Concrete is extremely durable and holds up well to extreme weather conditions and high traffic. You can stamp concrete to look like stone, rock, wood, brick, marble and almost any other design. Tint concrete to match any decor and textured by adding sand, pebbles or polished rock for slip resistance. Concrete designs can easily change from one area of the deck to another by changing the stamp or tint.
Stone/Slate/Brick
Flagstone, slate or brick is the most expensive resurfacing product because the material is authentic. Each deck surface is independently designed because all rock patterns are different. Durability and slip resistance are excellent because of the stone's natural elements. Greater preparations are required for the underlying surface, more time is involved in the restoration and the material being used makes this resurfacing choice more expensive.
Wood
Resurface wooden decks by sanding, staining, replacing boards or coating with clear or tinted water sealer. Use redwood, treated wood or hardwood planks to repair existing boards. You may also want to change your concrete surface to a wooden deck surface, which is less complicated when you don't have posts to put in. Price is variable depending on the wood used.
Tile
An inexpensive, simple, do-it-yourself resurfacing option is tile. Tile is available in many designs to replicate wood, marble, stone or brick. Some tile is self-adhesive and can be put on concrete surfaces, wooden decks, or bare ground that has been prepared and made smooth. Because tile isn't difficult to install, you can make your existing deck larger if you have the space. Tile can also be laid in concrete or by using traditional grout, but using this application makes it more expensive.
Carpet
Another inexpensive, do-it-yourself, resurfacing possibility is carpet or imitation grass. Purchase the carpet in squares, like the tile, or in rolls and apply with glue to the existing surface. Be sure to get water-resistant glue and indoor/outdoor carpet from your local hardware store. Carpet will not hold up in weather like the harder materials, but if installed under a patio cover it will last much longer.
Paint
Additives to paint such as sand, ground stone or granite can make your deck surface slip-resistant. Add a refreshed look by applying the paint with a roller or brush to your existing concrete deck. You can purchase patch or repair kits to fix cracks, holes or uneven surfaces on your existing concrete. Paint is usually dry in one day, which makes this the fastest restoration process of all.