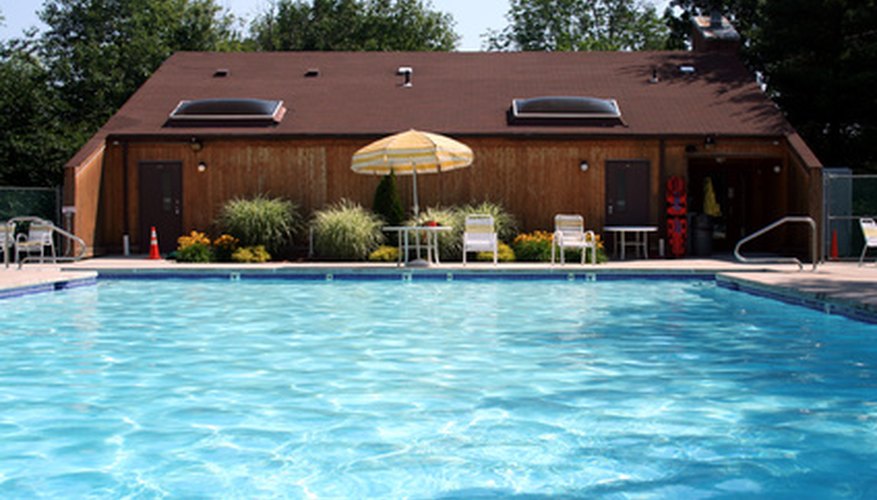 Swimming pool and pool house image by Jim Mills from Fotolia.com
Standard white plaster is often the least expensive option for resurfacing a pool, but there are alternatives that are easier to maintain, less susceptible to stains and longer-lasting. Quartz, tile, fiberglass, pebble and stone surfaces are some of the more popular possibilities offered by pool resurfacing contractors. To decide which is right for you, consider cost, durability, how they look with your pool lighting, and required maintenance.
Quartz
Quartz finishes are popular due to their visual appeal and durability. Usually consisting of white cement mixed with a high percentage of quartz, these finishes last longer (between 12 and 15 years) than standard plaster (around 7 years), according to Arizona pool remodelers CDC Pools Inc. They are also more resistant to changing chemical conditions. And they come in many different colors--from vivid blues to more subtle shades, such as beige or plum. Their variegated surface hides dissolved mineral stains and other cosmetic blemishes while giving water the appearance of a lagoon, ocean or other natural water body.
Stone and Pebble
Pebble and stone finishes can give a pool a more natural look. Like quartz, these finishes are actually plaster with aggregate mixed in. And like quartz, the addition of aggregate makes the finish more durable and stain-resistant. Pebble finishes can be rough and cost twice as much as plaster, but they often last more than between 15 and 20 years, according to a remodeling guide by CDC Pools Inc. This finish blends well with rockscapes or landscaped environments. Because the stone material used in these finishes is chemically inert, it is not as likely to react with the pool chemicals.
Tile
Although most pool remodeling contractors consider tile the best pool finish in the long run, it is quite expensive to install. The cost keeps many consumers from choosing this option. But it is less costly when you consider that tile surface will likely last for many decades. Tile, both glass and ceramic, is mostly maintenance-free, except for cleaning and the occasional need for re-grouting. It does not need painting, acid treatments or other aggressive cleaning methods that are used with plaster. Tile is also smooth, has unlimited color options, and exhibits resistance to harsh weather or chemicals.
Fiberglass
Fiberglass surfaces vary in durability, although if properly installed and maintained, they can last decades, according to Royal Fiberglass Pools Inc., a nationwide installer. Still, some low-quality fiberglass surfaces may need refinishing every four years, according toppoolbuilders.com, a web site that provides information on various pool resurfacing contractors. Fiberglass is usually inexpensive compared with other options. It is easier to clean than plaster, but its installation can be tricky, according to toppoolbuilders.com. If applied incorrectly, it may not adhere to the pool's subsurface. A fiberglass surface has a bright, white finish, but repeated freezing and thawing cycles can cause it to become delaminated and discolored.
References