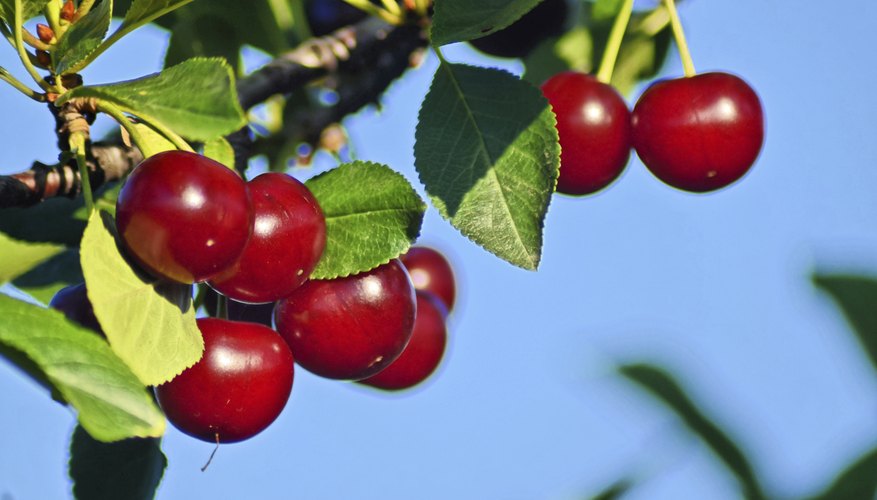 Cherry trees are susceptible to a variety of fungal, bacterias and viral diseases. Used mostly for cooking, tart or sour cherries (Prunus cerasus) grow in U.S. Department of Agriculture plant hardiness zones 4 through 6 and grow up to 20 feet tall. Sweet cherries (Prunus avium) grow in USDA zones 5 through 7 and grow 20 to 40 feet tall. Cherry trees prefer full sun and well-draining soil. Inspect your cherry trees' leaves, flowers and fruits regularly so you spot problems early. Wear protective clothing if you use fungicides, and keep children and pets away from garden chemicals.
Fungal Disease Symptoms
Fungal diseases of cherry trees include leaf spot and brown rot. Most common in sour cherries but also in sweet cherries, leaf spot starts with purple spots that enlarge and drop out of the leaf. Other symptoms include yellow leaves, fuzzy spore masses in the spots and premature leaf drop. After overwintering in fallen leaves, the spores infect cherry trees during rainy spring weather. Brown rot causes brown, collapsed flowers and brown fruit covered with gray spore masses. A gummy substance may ooze from the twigs. The fungus overwinters in shriveled fruits that stay on the tree, and then becomes active in spring.
Bacterial Disease Symptoms
Cherry trees may have problems with bacterial disease, including bacterial canker. Spread by spring rains, bacterial canker causes dieback and cankers with an oozing amber substance. The inner bark may smell sour, and reddish flecks may appear around the cankers. Trees that are stressed from drought, freezes or other extreme conditions are more susceptible to bacteria canker than healthy trees. The disease is most common in cherry trees between 2 and 8 years old, and usually does not affect trees during the first year after planting, notes University of California Statewide Integrated Pest Management Program.
Viral Disease Symptoms
If you notice delayed leafing and unusually small leaves on a cherry tree, necrotic ring spot virus may be the culprit. Leaves that do appear may have dark rings and lines, raspy underside growth and light green, 1/4-inch leaf spots that enlarge and drop out. Branch dieback and splitting bark may also be a problem. The virus spreads through pollination, seeds and grafting, and is most common in trees that have matured enough to flower. Necrotic ring spot spreads more rapidly in sour cherries than in sweet cherries, notes Pacific Northwest Extension.
Control of Cherry Tree Diseases
You can prevent fungal diseases, such as cherry leaf spot and brown rot, by removing and destroying fallen leaves and rotted fruit in the fall and early spring, and by using fungicides. To treat leaf spot, for example, mix 1 1/2 tablespoon of captan fungicide in 1 gallon of water, and spray in the spring as the leaves appear. For brown rot, apply the mixture when buds open and when the tree is at 70 percent bloom. Use from 1 to 2 pints for dwarf or immature trees, and 1 to 4 gallons for mature or large trees. People and pets should stay away from treated areas until the spray dries. To control necrotic ring spot, dig up and destroy infected trees. Before buying cherry trees, ask if the nursery stock has been tested for the virus.