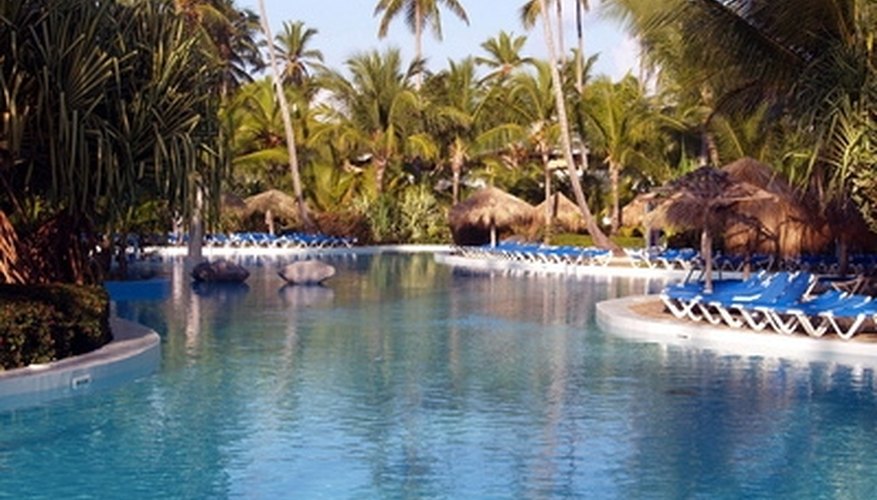 A sparkling backyard pool is refreshing on a hot, sunny day. Add lush, tropical plants to that scene and you've got a tropical oasis. Fortunately, many tropical plants are low maintenance and ideal for planting in a garden or in containers around your pool. Never plant flowers or shrubs where they will hang over into the pool as this may clog your pool's filters. When planting in containers, make sure to provide adequate drainage for your plants.
Hibiscus
With its large frilled flowers, hardy hibiscus has almost become synonymous with a tropical garden. This deciduous perennial shrub will grow to 5 feet tall and 3 feet wide in full sun. Hardy hibiscus thrives in moist soil. Flowers, some reaching 12 inches in diameter, bloom from summer into fall in USDA Hardiness zone 5 through 9. Hardy hibiscus blooms in a myriad of colors from white to red and purple.
Bird of Paradise
This tropical perennial shrub will add interest to your poolside garden. The unusual flowers resemble the head and plumage of a bird on thick stems reaching 5 feet tall. According to the University of Florida, this plant is native to South America. As this plant does not drop leaves, it's ideal for a poolside garden. The leaves are large and dark green, providing year around interest. This plant thrives in USDA Hardiness zones 8 through 11 but bird of paradise can easily be grown in a container in cooler climates to be moved indoors before the first frost falls.
New Zealand Flax
The sword-like bronze leaves of this flax will contrast beautifully with the green foliage in your poolside garden. Hardy from USDA Hardiness zone 8 to 11, this evergreen shrub provides year around interest and will grow quickly up to 5 feet tall and 3 feet wide in full sun. According to Monrovia, although this flax is drought-resistant, it will also thrive in very wet areas. New Zealand flax will look beautiful planted in the ground around your pool or placed in a container.
Princess Flower
The princess flower is an evergreen shrub that thrives in partial to full sun and well-drained organic-rich soil. The large purple flowers bloom from spring into summer and will add a tropical flare to your poolside landscape and attract butterflies to your garden. Princess flower can also be grown in a large container. Protect your princess flower from wind and afternoon sun and it will grow to 7 feet tall and wide in USDA Hardiness zones 10 and 11. Water well, especially in hot weather.