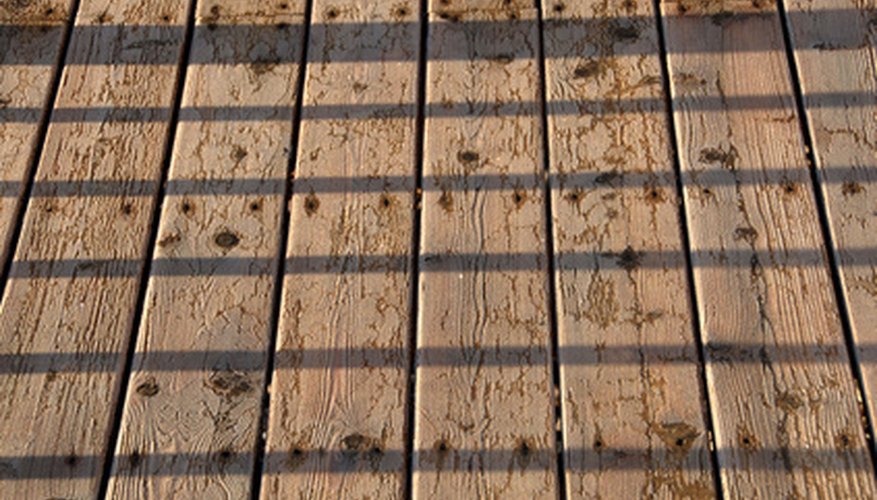 Building a wood patio or deck from scratch or installing one over an existing patio can give your outdoor space a new look. Although the term patio typically refers to an outdoor area with materials, such as concrete or brick, placed in the ground, low-lying wooden decks are sometimes referred to as wood patios.
Use Tiles
If you have a concrete or brick patio that's looking a bit worse for wear, spruce it up by creating a wood patio out of wood deck tiles. Made from a number of small boards or pieces of wood, wood deck tiles look like small squares of decking and interlock to form a wood floor for your patio space. Wood deck tiles are easy to install and often less expensive than replacing an entire patio or building a deck.
Mix It Up
If you like the wood look but want some variety in your outdoor space, mix it up with different elements or media. Extend an old red brick patio with a platform of dark-stained wood for contrast, or add a slightly elevated wood patio next to an existing deck to create extra space. If you're starting from scratch, think about using wood as a border for a stone patio, or switch it up and surround a wood patio with a stone border.
Add On
To add height, depth and usability to your wood patio space, add on. Create built-in shelves or seating areas. Need to add a little green? Build planters with multiple levels in the corners or around the edges of your wood patio. Add storage areas for toys or outdoor games along the wall of the house. If you can create it from wood, the sky's the limit when it comes to built-ins on your wood patio.