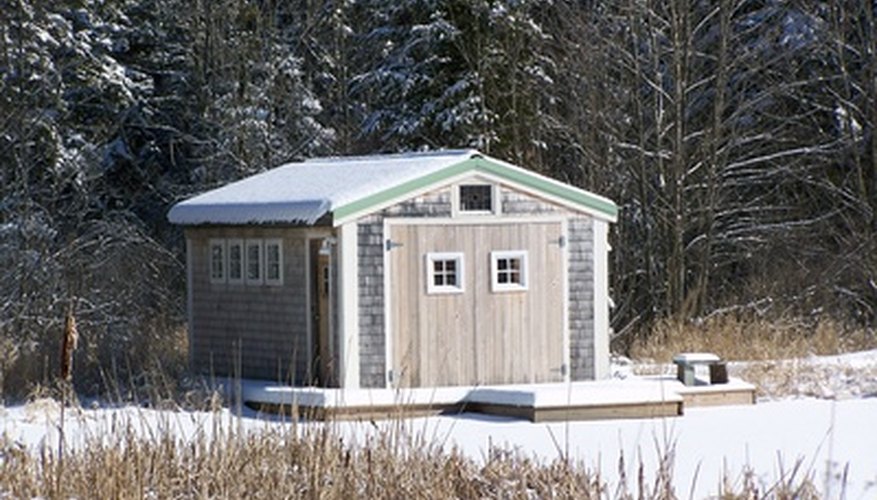 When it comes to maximizing space in your shed, a few organization solutions along the walls will keep everything visible and orderly. A shed extends your home's storage space by allowing you to designate it specifically for tools and accessories you need for outside work and recreation. By sorting and organizing your items, you may find that you can store a lot more than you originally thought.
Shelves
Add above-head shelves along three to four of the shed's walls. Put shelves at this height to use space that you may not have thought to use. Use these shelves to store lawn, garden and automotive chemicals and solutions. They will keep hazardous products and dangerous tools out of the reach of small children.
Install more shelves along the walls away from the door. Look at the items that you will store, measure them and use these measurements to space the height of your shelves.
Designate one area for gardening, another for automotive supplies such as car washing sponges and brushes, another for outdoor accessories such as chair cushions, seasonal lamps and accessories and inflatable toys.
Wall Organizer
Install a wall organizer along one wall to hang rakes, outdoor brooms, shovels, pruners, trimmer and other outdoor maintenance equipment. Some wall organizers also have attachments to hang bicycles.
Workbench
Add storage solutions from the floor up after maximizing your wall space. Install a workbench along one wall, just below the shelves, for woodworking, gardening and repair projects.
Utilize the space under the workbench by adding two more shelves for paint, potting soil, rock salt and other heavy supplies.
Storage Bins
Use varying sizes of storage bins. Use small shoebox-sized bins for screws, nails, paint brushes and small hand tools. Use larger bins for inflatable pool toys, outdoor cushions, ropes, extension cords and bulky items you need for the outdoors.
Print labels for your bins to make them look professionally organized. Place the smaller storage bins on shelves and larger ones under the workbench or along a wall.
Hooks
Complete your shed organization with hooks. Install a couple of coat hooks near the door and a few hooks for hats, goggles and small hand tools.