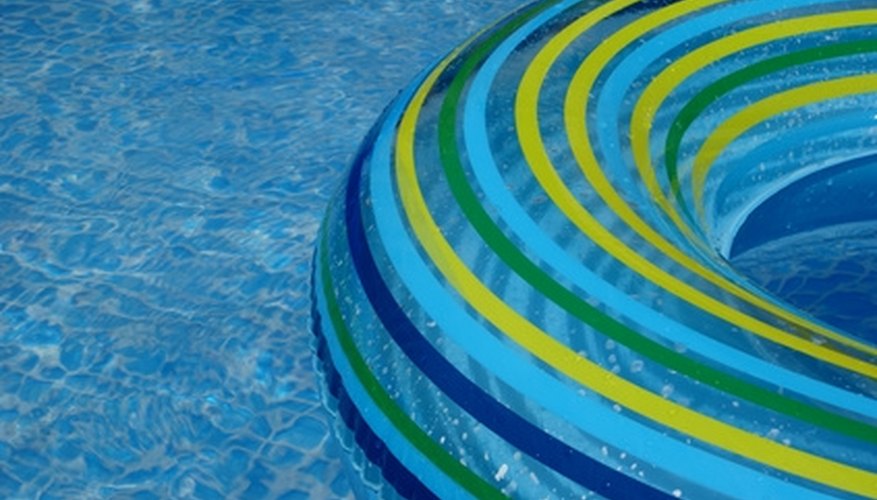 There are a lot of material options for resurfacing a swimming pool beyond the traditional plaster or concrete. As technology and design have evolved, materials such as fiberglass, plastic and vinyl have become more commonly used.
Plaster
One of the first materials to be used for swimming pool construction was plain, white plaster similar to the material used to make body casts. Plaster is relatively inexpensive, making it popular for covering large sections of a swimming pool. If it becomes chipped, plaster can be patched. Plaster is typically a basic white but can be painted.
Concrete
Stronger than plaster, concrete surfaces for swimming pools are common for large pools that have to withstand a lot of wear, tear and use, such as public pools. Concrete is usually poured into forms that are joined to create the entire pool. The poured concrete is smoothed so that the pool has no runs or rough spots. Concrete can be left bare or it can be painted in a single color or in designs. If the concrete cracks or if the surface becomes pitted or scarred, it can be sanded down and a fresh coat of concrete poured over the top to resurface it.
Fiberglass and vinyl
Another popular resurfacing option is fiberglass, a durable material made of interlocking fibers that often feels like plastic. It can be purchased in cast shapes that fit over a pool's surface; cracks or holes in fiberglass can be repaired with fiberglass patches. Fiberglass is often covered with vinyl surfacing, allowing the pool owner to customize the color, texture and design. Vinyl covering hides any fiberglass patches, and can also be patched if it tears.