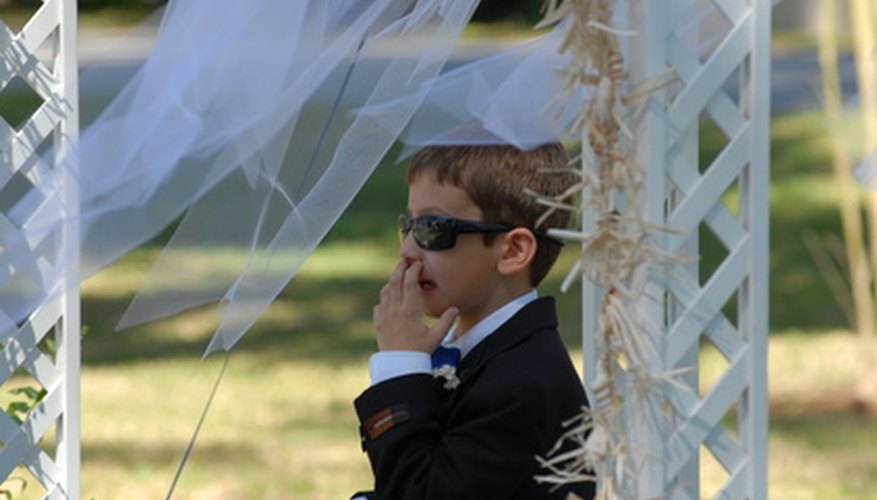 Lattice projects for sun shade can be grand in design, such as gazebos or arbors, or simple and elegant such as trellises and lattice screens. The grid work on a lattice panel offers a semi-permeable shield that protects from sun rays and heat but, unlike retractable shades or fabric, also allows cool breezes through. Lattice panels come in a variety of styles, textures and colors; the material for lattice projects is available from any local home improvement store and blends nicely with many designs. Lattice building plans are available online or at many home improvement stores.
Lattice Porch Screens
Lattice screens transform a hot and stuffy porch or pergola into a cool, private setting. Purchase lattice panels from your local hardware store. Standard lattice panels measure 4 by 8 feet, though some stores carry smaller panels for smaller projects. Create a sturdy frame from 2-by-4, weather-resistant or treated lumber. Attach the frames to your porch or gazebo. Position the lattice against the frames and secure the panels into place with screws or nails. Paint or stain the lattice panels to match the existing design of your porch or garden.
Stand-alone Lattice Screens
Lattice screens can also stand alone to conceal yard equipment or trash cans. Using post-hole diggers, dig holes at least 3 feet into the earth for support for a frame. Instead of traditional 2-by-4s, use sturdy porch or fence posts to create the frame. Create the basic frame of your lattice structure and, while it is still light enough to maneuver, move the structure to the desired location in the garden or yard. Carefully place the structure into the pre-dug holes in the garden. After filling any remaining space in the holes with your choice of gravel or concrete for maximum stability, attach the lattice panels and paint or stain to complete the look. Lattice panels make great supports for climbing flowers, which will further help conceal unsightly tools.
Lattice Structures
Lattice sculptures can break up expansive landscapes and become functional focal points in a garden, yard or along a walkway. Pergolas, arbors and trellises are common lattice structures. These structures, when coupled with seating, create delightful resting areas where you can relax and enjoy the view without extensive glare and heat from the sun. Lattice structures can have seating built-in or added later with benches or lawn chairs. Lattice structures use heavier, durable wood and require regular maintenance to protect the wood from rot or weather damage.
Customizing the Look
While lattice itself is an attractive material, customizations add to its appeal. Add embellishments such as climbing flowers and fruit to lattice trellises. This helps give the lattice projects an added function as well as increased natural beauty. Lattice screens can also be enhanced with screen cloth to soften harsh lines. You may want to add extra framing, such as additional walls, doors or gates, for structural interest. Break up latticework by incorporating treated frames from old pictures or mirrors into the design plan, or purchase varied styles of lattice to create interest throughout the project.