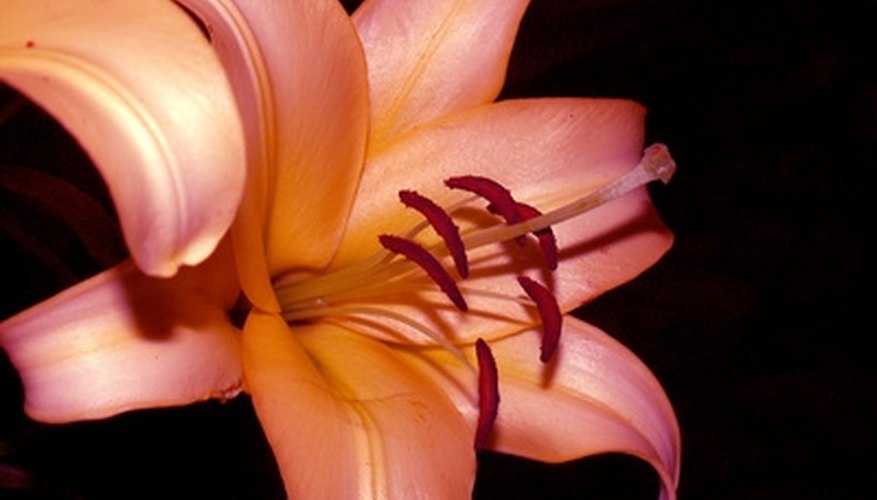 According to the Humane Society, there are more than 700 plants that possess toxic substances that cause damaging effects in animals. From common houseplants to popular garden varieties, flowers poisonous to animals can cause victims to experience a range of symptoms, from mild nausea to paralysis. The worst cases lead to death. Factors, such as species and the weight of an animal, often play an important role in the severity of responses to a poisonous flower.
Amaryllis
Also known as the Belladonna lily, Saint Joseph lily, Cape Belladonna and Naked Lady, amaryllis is poisonous to cats and dogs. The flower is an easy-to-grow bloom that comes in shades of red, white, pink, salmon and orange with a variety of attractive striped and multicolored selections. When animals come in contact with amaryllis, they may experience vomiting, depression, diarrhea, abdominal pain, hyper-salivation and tremors.
Hyacinth
With long-lasting blooms and an inviting fragrance, some animals fall victim to the toxic alkaloids contained in the hyacinth. As a popular addition to flowerbeds, hyacinths decorate landscapes with shades of pink, red and purple. Dogs and cats that eat hyacinth often vomit and experience diarrhea, dermatitis and allergic reactions. Hyacinth bulbs contain the most potent amount of toxins.
Gladiola
Delivering the visual appeal of funnel-shaped flowers to gardens, gladiola adds touches of dark fuchsia, violet, red, pale pink or yellow. Many species of gladiola contain toxin components that make horse, cats and dogs sick. Animals respond to gladiola poisoning with excessive salivation, vomiting, drooling, lethargy and diarrhea. The worst cases involve the ingestion of the corms (or bulbs), which contains the highest concentration of toxins.
Geranium
The large, brightly colored blooms of geraniums are a well-liked choice for gardens and flowerbeds and serve as decorative houseplants because of their ease to grow in almost any setting. When eaten, the geraniol and linalool found in many varieties of geraniums pose a threat to the health of cats and dogs. Common responses to the poisonous flower include vomiting, anorexia, depression and dermatitis.
Rhododendron
Also known as Rosebay or Azalea, there are about 250 different species of the flowering shrub that stretch from the state of California to Georgia. Animals, such as horses, cats and dogs are affected by the grayantoxin contained in the plant. Typically, within a few hours of ingestion, animals may suffer acute digestive upset, excessive drooling, decreased appetite, colic, weakness, loss of coordination, leg paralysis and weakened heart rate that lasts for two or more days.
Larkspur
With more than 80 species of larkspur in North America, animals living on lowland slopes, grasslands and mountainous regions are more likely to come in contact with the poisonous diterpene alkaloids contained in the plant. Cats, dogs and horses may suffer neuromuscular paralysis, constipation, colic, increased salivation, muscle tremors, stiffness, weakness and convulsions. Some animals face cardiac problems and die from respiratory paralysis.
Lilies
Lilies are notorious for causing sickness and kidney failure in cats, while the majority of lily species are non-toxic to dogs and horses. For example, the Calla Lily (also known as the Trumpet Lily) is toxic to dogs and cats due to insoluble calcium oxalates. Animals who eat this species of flower often experience oral irritation, intense burning and irritation of the oral cavity, excessive drooling, vomiting and difficulty swallowing. The entire Easter lily plant is toxic to cats, whereas dogs and horses are unaffected. Vomiting, lethargy, kidney failure and death are common consequences when a cat eats any part of an Easter lily.