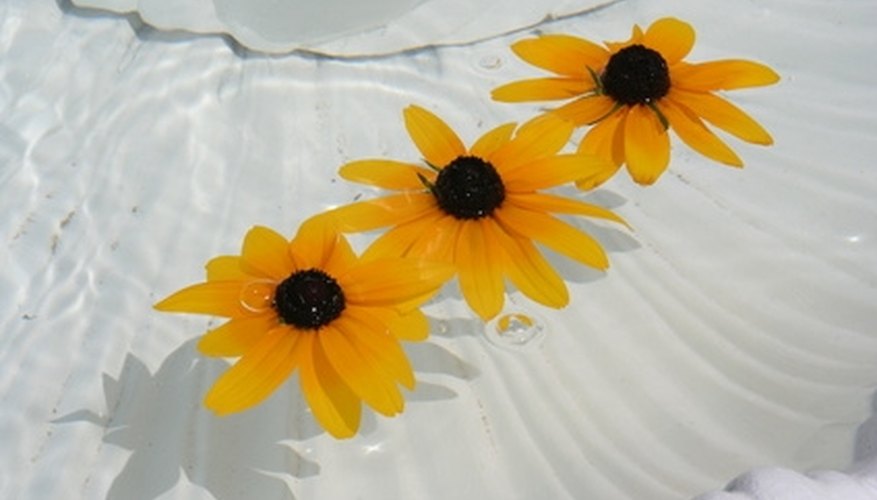 An arrangement of flowers lends color, scent, shape, and style to any environment. Flowers contribute a sense of life and serenity to homes, offices and places of business. While flower arrangements come in literally hundreds of styles and sizes, ranging from petite, garden-style baskets to bold, tropical displays, one of the most pleasing types of flower arrangement is a floating one, in which the heads of flowers drift on the surface of water.
Gardenias
Gardenias are wonderful blooms with which to create floating flower arrangements, because they are both fragrant and ideally shaped for floating, with rather flat bottoms and lovely, many-petaled tops. Float gardenia flowers in a water-filled, vintage milk glass dish; the white milk glass will complement the creamy hue and soft texture of the gardenias.
Rose Petals
Float rose petals for a romantic, lush effect. Choose a cut crystal bowl to use as a container for water; its classic, extravagant appearance works well with rose petals. Cover the surface of the water with rose petals in just one color--such as red--or in several colors in the same family--such as red, pink, and rose--for a sophisticated look.
Gerbera Daisies
Gerbera daisies have a cheerful, casual look, and they come in a broad assortment of colors. Small metal buckets, made of aluminum or tin, are great containers for floating gerbera daisies; they have a cute, homey appeal that complements these flowers. Make sure to remove the daisies' stems and float only their heads in water.
Dendrobium Orchids
For a tropical-looking floating flower arrangement, float dendrobium orchid blooms. There are usually at least 10 to 12 blooms on a single dendrobium orchid stem; remove them all and float them in a wooden box fitted with a clear plastic liner to prevent the water from damaging the wood. Choose a box that has been stained in a rich hue or lacquered to a high gloss to highlight the exotic luxury of these blooms.
Spider Chrysanthemums
These mums have dozens long, narrow, pointed petals that explode out from their centers in a delicate display. They are particularly well suited to Asian-themed décor. Try floating the heads of spider mums in a painted, porcelain Chinese bowl or vase for a look that is decidedly Chinoiserie.
Flowers and Floating Candles
Floating flower arrangements need not just include flowers; add floating candles to any arrangement of floating flowers for interest and atmosphere. Floating candles come in a variety of colors. Choose colors that harmonize with the hues of your flowers.
References