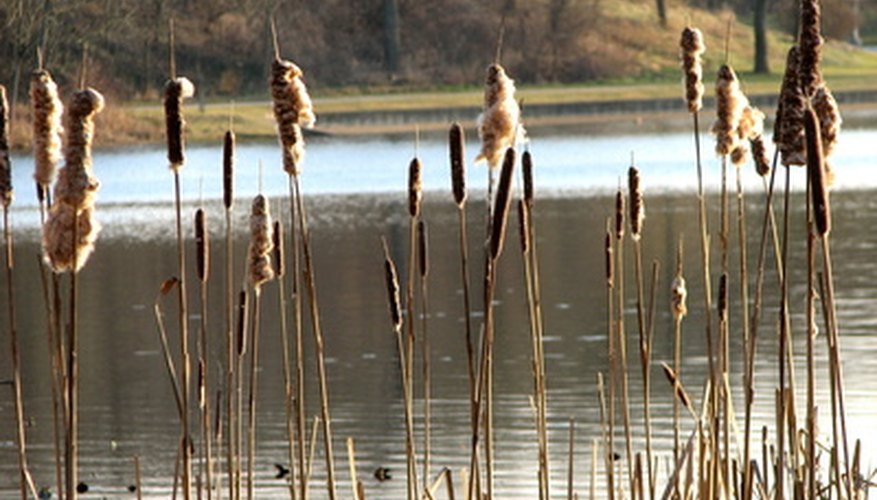 Cattails are very hardy, tall plants that grow around wetlands, marshes, and lakes. They can be beautiful and are used in decorative floral arrangements. Cattails, however, easily get out of hand and take over a water area. Too many cattails crowd out other forms of life, both plant and animal, and make it impossible for humans to enjoy the area. Along with manual removal and mowing, several good commercial herbicides attack cattails. All methods of eradication can be used together to fight cattails.
Liquid Glyphosate
This type of herbicide is especially effective on cattails because it is absorbed into the plant and makes its way down to the root system. This destroys the rhizome and keeps plants from reproducing. Commercial forms of liquid glyphosate are Rodeo, Eraser AQ, Touchdown Pro, Aquamaster, and AquaNeat.
Liquid Imazamox
Clearcast is a product containing liquid imazamox. It works the same way liquid glyphosate works, by absorption into the plant's system. Liquid imazamox works slower and is beneficial for large spread problems of cattails, so that too many aren't destroyed at one time, potentially choking the area with dead plant material.
Imazapyr
Commercially found in the product Habitat, this is a very helpful herbicide if you have a lot of wildlife surrounding the water, or living in the water. Imazapyr is free of heavy metal materials, phosphates, and organochlorides. It is one of the few herbicides safe for animals.
Diquat
Readily available in commercial form as the product Reward, diquat is good for cattail control, but not as effective as other chemical methods of eradication.
Salt
Not, strictly speaking, an herbicide, salt's main benefit is that it is natural and occurs in most water environments to some level. High degrees of salinity in the water kill off cattails, which prefer fresh water. Flood the area with 10 grams of salt per 100 gallons of water (sea strength) for two months to destroy the cattail in all of its growth cycles and prevent young shoots from reappearing after an initial die off.
Warnings
Make sure the water you treat with herbicides is not part of a river or other possible fresh water source for drinking and use. Keep the local wildlife in mind when you choose a product, too. Many herbicides will destroy other plant life and kill animals that live in or around the water.
Killing off large quantities of any plant life, including cattails, can also choke the water; depriving the ecosystem of oxygen and killing the animals and fish that live in it. Always take careful consideration of the situation before destroying any piece of a water system. Destroy cattails slowly so they do not unbalance the environment.
Always follow the directions on chemicals for proper preparation. Overuse will cause more damage than the product benefits, and underuse won't solve the problem.