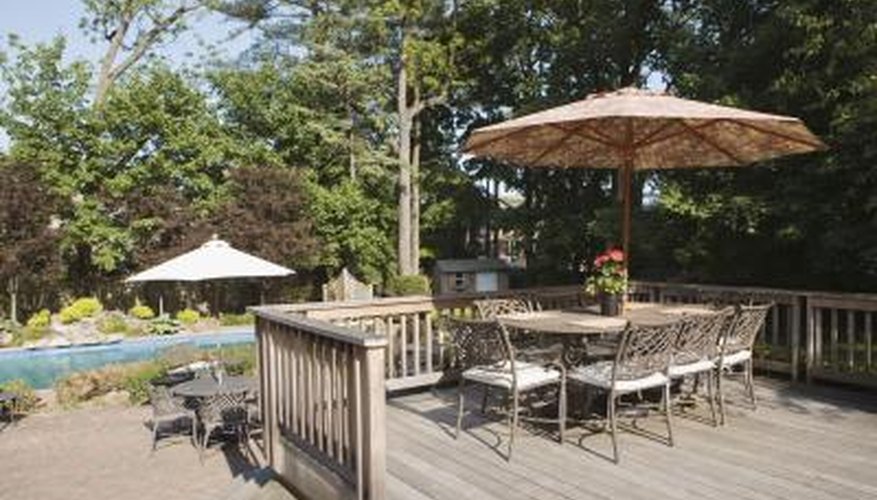 For convenient access to your above ground pool, installing a deck is the natural way to go. A deck can turn your pool area into a backyard oasis, offering a beautiful spot to gather with friends, rest up between swims, soak in the sun or grab a little poolside refreshment. When deciding on a deck for your above ground pool, there are three basic plans to choose from: a splash deck, a deluxe splash deck, and a side pool deck. Each option offers convenient access to your pool and a relaxing place to enjoy the outdoors.
Splash Deck
A splash deck basically surrounds your above ground pool, providing an even amount of space, generally three to six feet, on all sides. They offer easy pool access and some space to lounge and relax around the side, but no extra space for dining, barbecuing or gathering. They are made to accommodate either round and oval pools and can be installed either bellow or above the pool ledge, creating a lipped or flush pool edge. Decking material options include natural wood, pressure treated wood, composite materials as well as plastic or PVC. For added safety and a finished look, a hand rail surrounding your deck can be installed as well. Some designs offer special features such as lighting for romantic evenings by the pool.
Side Deck
Rather than surrounding your entire pool, a side deck abuts the pool on only one side. Though they offer less access into and out of the pool than splash decks do, side decks provide more space for poolside picnics and gatherings. Side decks also allow you to connect your pool and deck to your home if you choose. As with splash decks, side decks come in an array of materials options, such as redwood, cedar, tropical hardwood and durable composites made from plastics and waste wood.
Deluxe Splash Deck
Deluxe splash decks combine the features of a side deck and splash deck, surrounding the pool entirely with an expanded side area for gathering and lounging. Deluxe splash decks can connect directly to your home for convenient access, or stand separately. You can also add more than one side deck, or side decks at varying levels for access to both the pool and the yard.