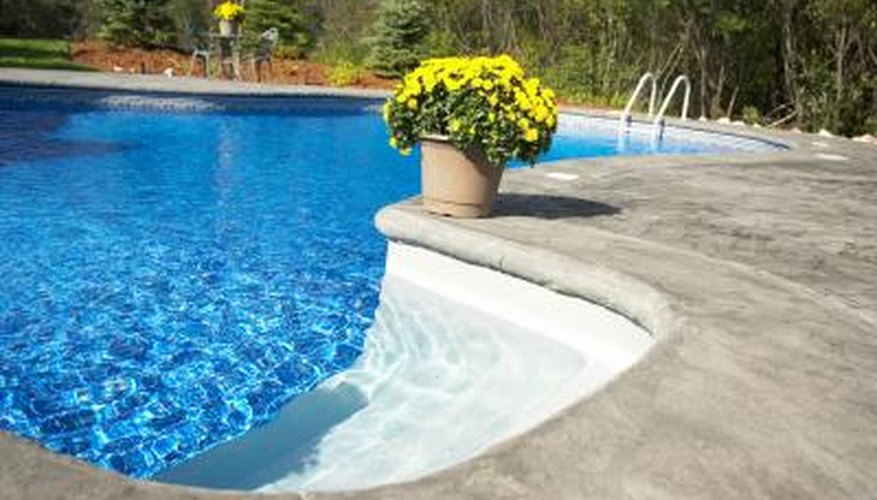 A pool's plaster surface can last for 10 to 20 years, after which it becomes chipped, cracked and worn looking. The solution to this is to resurface the pool. There are actually several options when it comes to doing this and the option you choose depends on your budget, the type of pool you have, and the amount of time you have to get the project done.
Plaster Surfacing
Replace an old plaster coating on a pool for a new look. Prepare the empty pool and repair the chips, cracks and holes first. Then, use a bonding agent--usually a thin layer of Portland cement rolled on using a paint roller--so the new plaster layer can adhere well to the old plaster layer. Then, the finishing plaster layer is applied. This is a complicated process and can cost upward of $10,000 to get it done professionally. Make it a do-it-yourself project, but is intensive, and takes a great deal of time. Different types of plaster material are used for the final coating, but most often it is either Marcite or Dimondbrite.
Fiberglass Surfacing
A fiberglass coating can be used to resurface a concrete or gunite pool. This offers a nice pool surface, however, certain issues arise with this material. Be aware of the warranties and know that often a manufacturer will not offer a warranty for more than 5 years on this type of surfacing. The installation is not as easy as it appears, and once fiberglass has been applied you are stuck with it. Removing fiberglass surfacing from a pool is expensive and very complicated.
Use a Resurfacing Product
There are many products on the market that resurface pools quickly as a DIY project. These are applied directly to the old pool surface. This is not swimming pool paint, but a product containing epoxy chemicals that creates a chemical bond with the old surface. These products usually only take a couple of days to install and are a good option when the pool does not yet have critical damage.