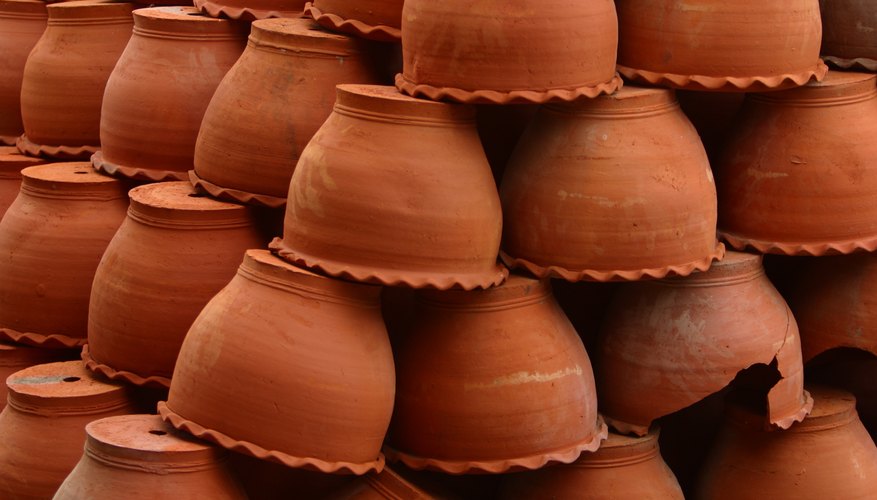 Clay pots lend themselves to a variety of crafts, from topiaries and statues, to fountains and bird baths. Every culture with an available clay source has fashioned unique clay-pot designs and crafts made from broken shards of pottery. Relatively inexpensive, terracotta pottery is a unique and easy medium for expression, in the garden and in the home.
Terracotta People & Animals
Make pot-people using different sizes of used and broken pots, sphagnum moss and plants suited to the final location where the pot-person will be displayed. The pots are held together using nylon rope, wire or long blots, with washers and nuts through the bottom holes in the pots. Items such as clothing, gloves and hats can be added for a unique touch.
Pot-people can be made in a variety of configurations, there really is no a limit to the design. In addition to pot-people, pot-pets and pot-animals are also unique additions to gardens or walkways.
Terracotta Fountains
Make clay-pot fountains using two or more clay pots or clay saucers for a refreshing and soothing sound of water for your garden and patio. The inside of the clay pot should be sealed with polyurethane, linseed oil or petroleum to prevent water leakage. Seal up the bottom of the pots and insert a pump.
This water pump simply pumps water to another pot, and the water flows back into the first pot. The pots can either be stacked on top of each other with a space between, or the second pot can be laid on its side to run back into the first pot.
Toad's House
Place a painted or decorated whole or broken terracotta pot on its side in a shady and moist location to provide a home for garden toads. Toads provide pest control, provided the garden is free of pesticides. Provide organic sphagnum moss or grass clippings for the toad to hide under and for protection from predators.
Birdbaths and Feeders
Create birdbaths and fountains in much the same way as clay-pot people. Three or four pots and a saucer are stacked bottom to bottom and top to top and are secured using ropes, brackets screwed through the pots or through washers and a nut and a long bolt that reaches from end to end.
The saucer is left free so it is removable for cleaning. For added whimsy, paint the pots using patio paints and seal with polyurethane on the outside. Avoid painting the inside of the saucer where the food or water goes, since the paint can be toxic to birds.
Terracotta-Pot Topiary
Stack several clay pots to form columns or figures. Secure strings or wire mesh around the pots to provide a place for vines to attach. Either train the vines to grow up the pots or plant them in the top pot and allow them to trail down the sides.
Clay-Pot Pond
Make beautiful small garden ponds out of extra large clay pots. Select a cool and partly shady location, protected from the hot afternoon sun. Make sure the pot holds a minimum of 20 gallons of water. If there's a drainage hole in the pot, fill it in before sealing, using a pond sealant. Avoid using other types of sealant as they may be toxic to the fish and aquatic plants. The outside of the pot can remain natural or be decorated or painted using craft supplies and patio paint.
Cycle the pond with water and true aquatic plants found at most hardware stores. Then add small goldfish or hardy mountain minnows. Be sure to winter the fish and plants inside if temperatures drop below 45 degrees F.
Mosaics
Create mosaics using broken terracotta shards of different colors. Interspersing them with other types of broken pottery, broken china or tiles can aid in making artistic clay creations filled with vibrant colors. Use mortar made for grouting bathroom tile and seal it using grout and tile sealant to preserve the art and make the mosaic weather resistant. The mosaics are often installed on the surface of patio furniture, on wood to make table top replacements and wall art or directly on other clay pots.
More Clay-Pot Ideas
Use small clay pots to hold pencils, pens or garden supplies for the shed or patio.
Use large sealed clay pots to hold ice and cans of soda and juice at outdoor garden parties.
Use terracotta saucers to display small items such as sea shells, rock collections or sand to make a zen garden.