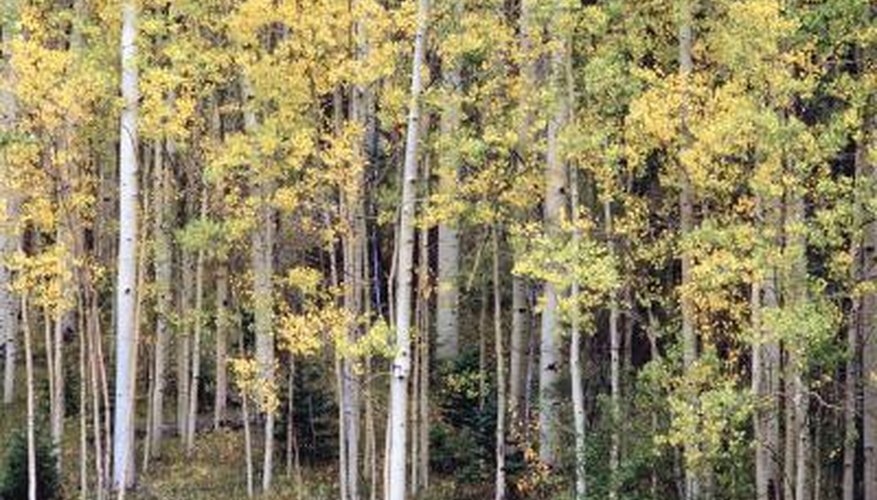 Poplar trees aren't a great choice as landscape trees. They are short-lived, sucker heavily, grow into dense groves and are considered "messy" because they shed leaves and their attached branches quite readily. Many poplar types are also susceptible to a number of plant diseases.
However, the much-maligned poplar does make an excellent, fast growing buffer zone, and works well for stabilizing riparian or damaged areas.
Eastern Cottonwood
The eastern cottonwood is a poplar variety that is native to the plains areas of the U.S. and Canada. Large and stately, topping out at up to 100 feet tall and 75 feet wide, this poplar has little landscape value because its wood is weak, easily breaking in storms; and it sheds leaves, flowers, twigs and fruits often and profusely, according to The Manual of Woody Landscape Plants.
Quaking Aspen
Quaking aspen poplars are the most widely distributed tree in North America, and display a stunning yellow leaf color in the fall. Its leaves have a way of fluttering with a slight breeze that give it the "quaking" quality.
Although this is a pretty tree, it has many pest and disease troubles and is not considered to be a good landscape tree. Planting several, as a fast-growing sound and sight buffer on the edge of a large property could be a good use for quaking aspen.
Lombardy Poplar
In the past, the Lombardy poplar was planted heavily for its straight, upright and narrow habit. Unfortunately, Lombardys suffer greatly from many pest and disease problems and can become an eyesore. They also sucker profusely, with "little Lombardies" popping up out of the ground nearby in large numbers.
A good replacement for the Lombardy poplar, if you really want a poplar, is the tower poplar, which is a hybrid and is more disease resistant.
Poplar Hybrids
Poplar hybrid trees are the result of mixing two different poplar varieties to create a new one. The tower poplar, as mentioned earlier, is a hybrid and a reasonable substitute for the Lombardy poplar tree.
The Robusta hybrid poplar is being touted as tree that grows up to six feet per year, providing shade in a hurry, and more disease and pest resistance than its parent trees.
However, it, like other poplars, is a very short-lived tree. It is used heavily for reforesting areas that have been damaged by fire or strip-mining. Lately, it has been used for new housing developments to provide quick curb appeal for new homes.
Tulip Poplar
The tulip poplar does not belong to the poplar family, but is often mistakenly assumed to be a poplar. The scientific name for tulip poplar is Liriodendrum tulipifera, and it is considered to be a very beautiful and useful large landscape tree, providing shade, and growing at a relatively quick rate, according the United States Department of Agriculture.