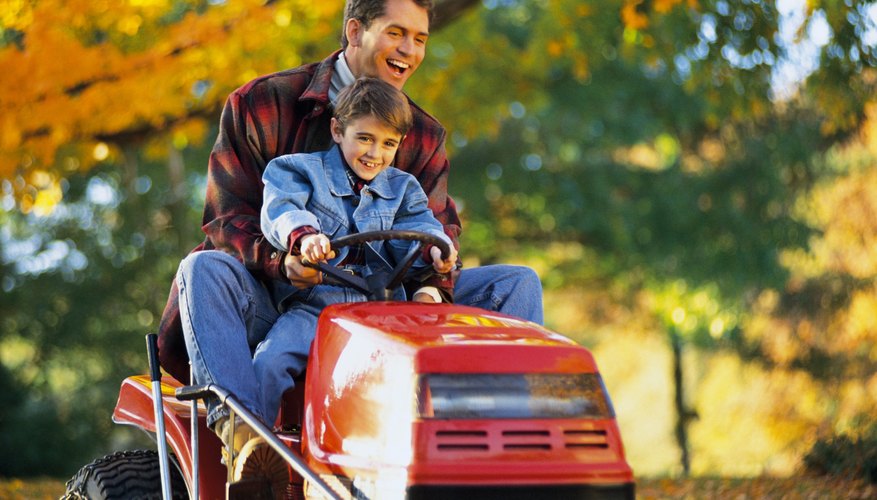 Riding lawnmowers are incredibly useful landscaping tools that can greatly reduce the strain on its users when compared to a traditional push mower. Users simply have to sit on the mower and steer it around the yard. Regardless of whether you have a small yard or acres upon acres, being able to simply sit on your mower is very appealing. However, hills can present a problem for riding lawnmowers. As a result, if the area you will be mowing is very hilly, it is important to select the appropriate mower.
John Deere X304
The John Deere X304 was voted the best tractor overall by ConsumerSearch.com, ConsumerReports.org and Family Home and Garden magazine. The John Deere X304 received top rankings in maneuverability, comfort, reliability and excellent performance. Four-wheel steering and a 15-inch steering radius allow the John Deere X304 to easily weave in and out of obstacles. Furthermore, the strong engine is perfect for safely climbing hills. John Deere offers a 4-year or 300-hour warranty on the X304.
Deere & Company World Headquarters One John Deere Place Moline, IL 61265 (309) 765-8000 deere.com
Cub Cadet iSeries ZTT 42
The Cub Cadet iSeries ZTT 42 is a zero turn tractor with a twist. Zero turn tractors used to be strictly used for commercial mowing. They provide their users with pinpoint turning capabilities and cut the time required to finish a lawn. Typically, zero turn tractors use two handles to maneuver. However, the Cub Cadet iSeries ZTT 42 is a zero turn tractor that uses the traditional steering wheel. Therefore, users do not have to get used to using levers to steer. Moreover, the Cub Cadet iSeries ZTT 42 can travel up to 6 mph, has a 42-inch blade and can power up hills with an impressive fully lubricated Kohler OHV engine.
Cub Cadet Corp. Headquarters Location PO Box 368022 Cleveland, OH 44136-9722 (330) 225-2600 (330)225-0896 cubcadet.com
Craftsman Model 28724
The Craftsman Model 28724 manufactured by Sears was voted as the best value lawn tractor by Funskins.com. The Craftsman Model 28724 is priced almost $2,000 dollars less than many other high powered riding mowers (John Deere, Cub Cadet, etc). However, the Craftsman Model 28724 still has 21 Horsepower (plenty for climbing hills) and comes with the standard Craftsman warranty. The only drawback to the Craftsman Model 28724 is that it doesn't offer a very tight turning radius. Consequently, it might take longer to finish lawns that require tight cornering.
Sears 3333 Beverly Road Hoffman Estates, IL 60179-0001 (847) 286-2500 sears.com