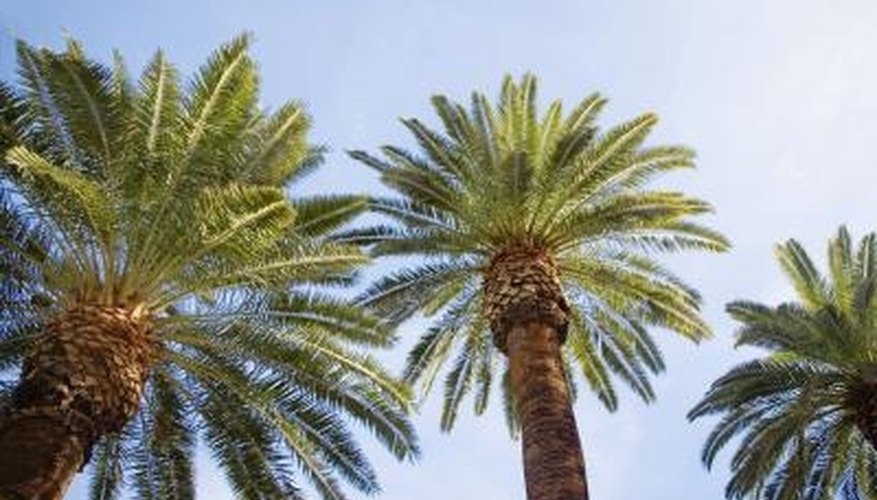 Palms are not true trees, even though such a term implies the palm is large, with an impressive trunk. None of the 2,500 species of palm grow with a cambium layer in their stems or trunks, and they lack bark -- features that would make them true trees. "Treelike" is a more appropriate adjective. The depth and spread of palms is similar to that of trees, but the roots do not become as thick and extensively branched.
Growth Characteristics
Palms do not develop a carrotlike taproot, even though it may seem a logical means to anchor such tall-trunked plants. Instead, palm roots radiate in all directions parallel to the soil surface, where moisture, air, nutrients and warmth exist most abundantly. The base of the trunk, which is 12 to 36 inches underground, looks like a bulb. Long roots that are of any thickness akin to the various fingers on your hand grow from the trunk base outward at a depth rarely more than 24 to 36 inches on the largest palm species. Roots extend several feet from the trunk to distances beyond the farthest reach of the frond tips.
Growing Season
Both new fronds and root growth on palms increase as soil and air temperatures increase. In tropical regions where winters are warm, roots continue to elongate but at a slower pace compared to the much warmer months of the year. Soil temperatures above 75 degrees Fahrenheit are particularly conducive to palm root growth. Adequate soil moisture also encourages the best root elongation in the soil profile. Therefore, in regions with naturally hot and dry summers, palms demonstrate stronger and more vigorous growth if irrigated.
Transplanting Palms
Compared to trees, large palms transplant better when dug up, even though their root systems are cut to facilitate the move to a new planting site. Palm roots are cut about 12 to 15 inches from the trunk to maintain a small root ball that eliminates excess weight from clinging soil during transplanting. Once planted, palms either regenerate entirely new roots from their underground trunk base -- as in the case of cabbage palm (Sabal palmetto) -- or sprout new leads or branches from the cut wounds on the root ball. How roots regenerate varies by palm species. In general, the farther roots are cut from the trunk, the more they survive. For example, more roots survive transplanting when cut 18 inches from the trunk compared to those cut 6 inches from the trunk.
Establishment Tips
Because palm roots grow and become most active during the warm months of the year, it's best to plant palms at the beginning of summer. In tropical areas, this can be nearly any time of year, but it's best to do when soil moisture is constant and when at least three months of very warm weather will follow.
Palms grown in containers will experience minimal loss or disruption to root growth, provided that no damage occurs during removal of the container and roots are not cramped and encircling the root ball. Dug-up palms with cut root balls benefit from warm-season planting so roots regenerate fastest. Cool soils can delay root growth and cause the palm to abort foliage or deplete food reserves as roots finally grow out and begin to absorb sufficient amounts of water and nutrients.