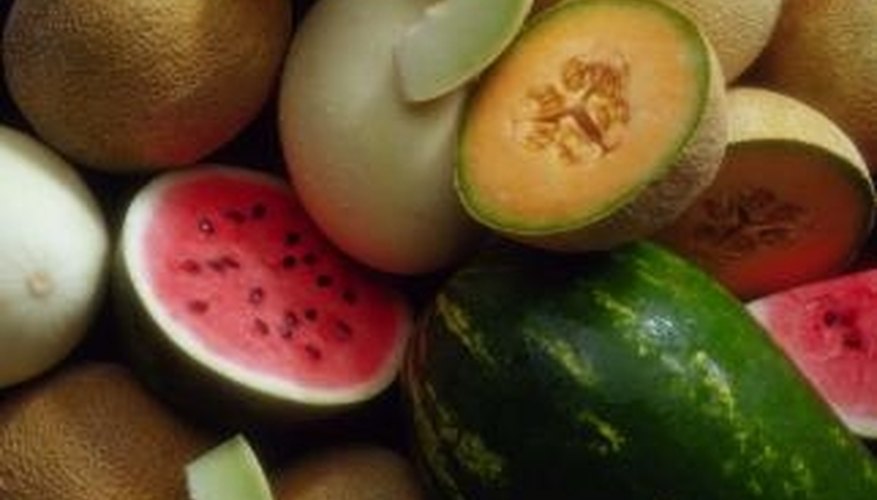 There are very few things that taste as refreshing during the summer months as home-grown cantaloupe and watermelon. These two fruits are simple to grow and make a suitable addition to any garden. Although some people worry about planting the two together, there is no real reason for concern.
Growing Conditions
Both watermelon and cantaloupe need rich, warm soil to grow their best. Since neither plant tolerates the cold, be sure all danger of frost is past before you plant them. Both plants also need plenty of water, especially during the three to four weeks after planting. One belief is that you should cut back on watering after the fruit forms, so you don't dilute the sugar in the plant, but if you want to avoid the fruit splitting, never let them dry out completely.
Planting
Plant watermelon and cantaloupe in either hills or rows. If planting in rows, space the seeds 8 to 12 inches apart in the rows and ensure the rows are 6 to 10 feet apart. If you are planting the seeds in hills, plant two to four seeds in each hill and allow 2 to 3 feet between them. Since the vines of both plants need lots of space to spread out, the extra room is needed for optimum growth.
Planting Considerations
Since watermelon and cantaloupe belong to the same plant family, people sometimes worry about the possibility of the two cross-pollinating. However, the two plants are of different genus and species, making it impossible for them to do so. The only real problem of planting the two together is that they are susceptible to many of the same diseases, and one may contract them from the other. Keeping these plants in separate areas may keep them healthier.
Harvesting
Whether you grow cantaloupe, watermelon or both, it is often hard to tell when they are ripe. Watermelon will usually have a cream or yellow color on the bottom when they are ready to pick, and the tendril at the stem will turn brown. The melon will also lose its shiny gloss. Cantaloupe will usually develop a thick netting over the rind with the color under the netting turning yellow or a lighter shade of green.