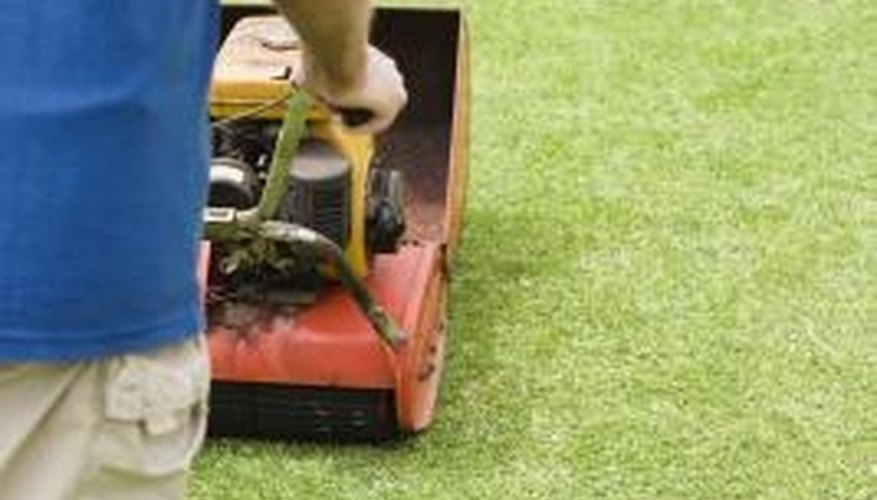 Distributors of artificial lawns market them to consumers who seek the look and feel of real grass, yet don't want to mow or irrigate their yards. When properly installed, the artificial lawn permanently affixes to the ground. Installers use anchors and sand to secure the artificial grass. Artificial lawns are not completely maintenance free, as they will need periodic care, such as adding more sand.
Preparing the Area
Properly anchoring the lawn begins by preparing the area. This involves removing any existing grass or foliage, leveling the area and taking the level down based on the thickness of the turf used. Some installers create a border around the area for the grass or butt the turf up to a concrete slab or swimming pool. The finished area needs to be lower than the surrounding ground to compensate for the height of the rock and turf added during installation.
Adding Crushed Rock
After adding crushed rock to the area, the installer spreads the rock out evenly and compresses the crushed rock by running a roller over the area and sprinkling the crushed rock with water. The finish product is level, firmly compressed and hard. Over the rock layer, the installer sets the first piece of turf, already cut to fit the area. The installer adds additional sections of turf after securing the first.
Pins or Nails
The installer secures the perimeter of the first section to the ground by driving U-shaped joint pins, landscape staples, spikes or galvanized nails into the turf. In essence, the installer nails the perimeter of the turf to the ground. The installer also nails a strip of joint tape under the edge of the first section, at the site of the eventual seam, where two pieces of the turf connect. After nailing the turf to the ground, the installer coats the tape with an adhesive, which affixes to the underside edge of the turf's seam. Before moving to the final steps, the installer manually adjusts the turf, smoothing out any creases.
Adding Dry Silica Sand
After nailing down the turf and trimming the edges, the installer sweeps the turf, brushing the blades of grass upward. The final step involves spreading a liberal amount of dry silica sand over the entire surface of the turf, and then sweeping the area with a broom. The sand works its way into the blades of the turf, helping to secure the artificial lawn to the ground.