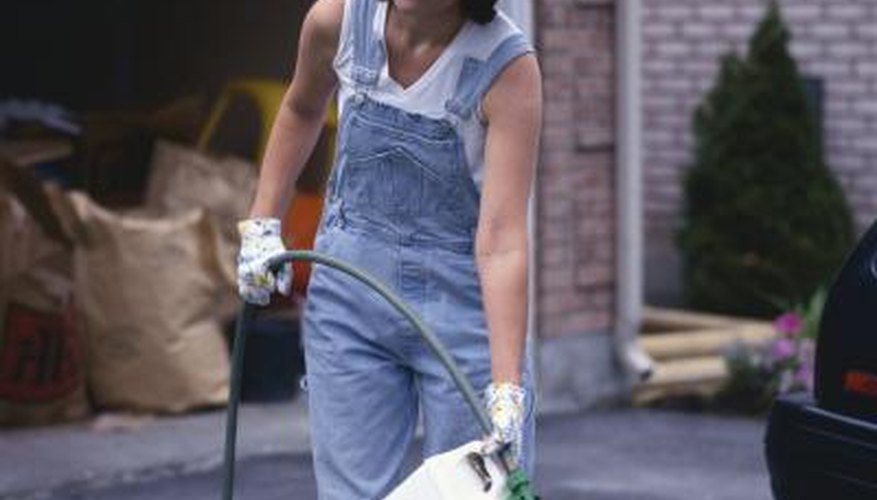 Water-soluble fertilizer is one that dissolves in water. These fertilizers come in many formulations, such as starter formulas for transplants, or balanced formulas for use on houseplants, flowers and vegetables. The main advantage of water-soluble fertilizers is that they are fast-acting. In many cases, though, slow-release fertilizers that provide nutrients over a long period of time benefit plants more and are less likely to pollute ground water.
Identification
Water-soluble fertilizers come as granular powders or as liquids. Both types are diluted with water before application and are usually dyed blue or green. Water-soluble fertilizers dissolve easily in water, allowing the plants to instantly take up nutrients. In comparison, granular fertilizers are spread or dug into the soil where they slowly break down. Slow-release fertilizers are coated with a material that allows them to break down very slowly, releasing nutrients over an extended period of time.
Benefits
Water-soluble fertilizers are convenient to measure and use. They work well for watering container plants and houseplants that need more frequent watering and fertilizing. Because they are diluted in water, they do not burn plants' leaves the way granular fertilizers might. Plants green up and grow more vigorously almost immediately after an application of water-soluble fertilizer.
Drawbacks
Water-soluble fertilizers are more expensive than granular fertilizers and must be reapplied frequently. They are applied either through hand watering with a watering can or through a hose-on fertilizer applicator. When using a hose applicator, it is easy to apply too much fertilizer, potentially polluting the environment.
Recommendations
Use water-soluble fertilizers for fertilizing new transplants to reduce transplant shock and for fertilizing container plants. Follow package directions carefully, and apply the recommended amount only. Use granular fertilizers for landscape use, such as vegetable gardens and flower beds. Amend soils with compost and manure in the fall to reduce your dependency on fertilizers, and try organic water-soluble solutions such as fish emulsion.