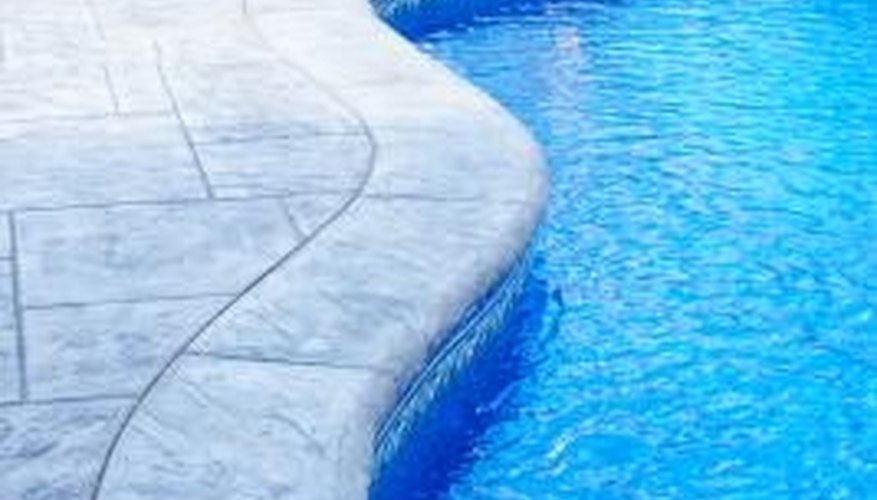 Jupiterimages/Photos.com/Getty Images
Prospective swimming pool owners considering the specific kind of pool they want installed need to consider certain factors, including its material and its depth. For example, a fiberglass in-ground swimming pool comes with specific maximum depth limitations. Because of the way fiberglass pools are created, production processes limit how how deep their basins are. In addition, many state over-the-road transport regulations limit the width of fiberglass pool liners due to their being classed as wide loads.
Fiberglass Depths
Production fiberglass pool basins are typically limited to maximum depths of 8 feet. The minimum recommended depth for a diving board type swimming pool is 7.5 feet, so an 8-foot maximum depth fiberglass model will work fine. All fiberglass swimming pools are one-piece creations and can be of uniform depth or sloping, graduated depths. For example, most fiberglass swimming pools start at about 3 feet and then slope downward until they reach their maximum depth.
Fiberglass Widths
A fiberglass swimming pool in the 21st century comes in many different sizes and shapes. (See References #5) At the time of publication, one builder was offering a fiberglass swimming pool of 16 by 45 by 8-foot deep dimensions. Keep in mind that the larger a fiberglass swimming pool is the more it can cost to transport it on the highways. Pool building companies will add additional shipping charges on fiberglass pools if they're larger than average.
Deep Wells
Fiberglass swimming pools with depths ranging up to 8 feet are called deep-well pools. One drawback to a fiberglass pool with a deep well is that it has to slope sharply to reach its 8-foot maximum depth. Sharply sloping deep-well swimming pools have limited shallow areas, which means less room for shallow water play. Deep-well fiberglass swimming pools, though, offer diving board enthusiasts and those in love with deep water play every opportunity for such fun and games.
Considerations
If you don't plan on having a diving board for your fiberglass swimming pool you can save money by going with a shallow depth model. Fiberglass sport swimming pools run up to 6 feet in depth and feature optional water slides. Also, sport-model fiberglass swimming pools offer more room for activities like volleyball or water aerobics than do deep well 8-foot deep pools. At the time of publication, 4-foot to 8-foot deep complete fiberglass swimming pools cost from $30,000 to $55,000 to install.