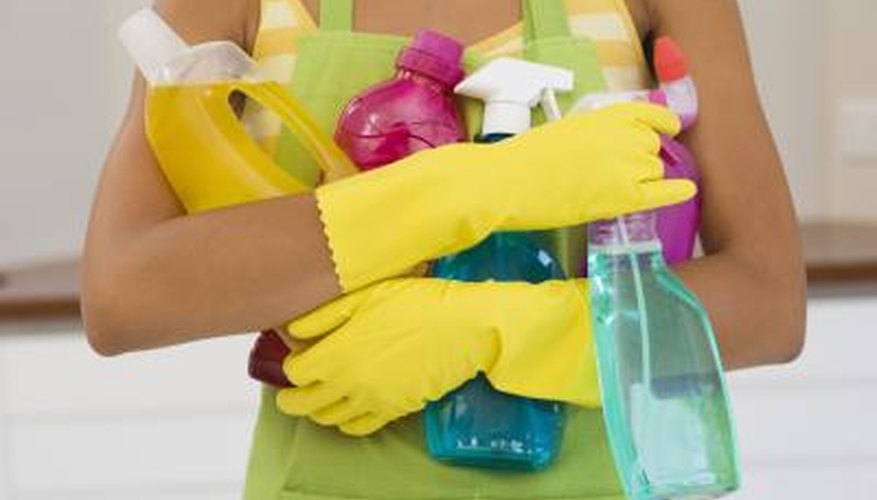 The average homeowner or renter in the 21st century has a nearly bewildering array of cleaning products available for her use. Some home cleaning products are "green," and make use of natural substances such as vinegar or baking soda. Other cleaning products are more chemically oriented and use such traditional cleaning chemicals as ammonia or bleach, both of which are potent cleaners. One thing's for sure, ammonia and bleach are extremely hazardous when combined together in an attempt to double cleaning effectiveness.
Explosive Combination
By themselves bleach and ammonia provide great value when it comes to housekeeping chores. Bleach contains the liquid form of chlorine, sodium hypochlorite, and is a potent disinfectant that will also make laundered white clothing even whiter. Ammonia is a common cleaning agent found in many different household cleaning solutions as well. People using bleach and ammonia, though, put themselves at great risk from dangerous chemical reactions when they mix the two chemical substances together.
Chemical Differences
The reason why bleach and ammonia tend to violently react when mixed together has to do with their chemical makeup. For one, the chlorine content in bleach is highly alkaline, making it a base. Ammonia itself is also a base, or alkaline, compound but it's a special kind known as a Lewis base. Lewis bases have the ability to donate pairs of their electrons to compounds that will accept them, while standard bases do not. The chlorine in bleach will greedily gobble up Lewis base electron-pairs, creating a violent reaction.
Dangerous Results
Not only is bleach and ammonia hazardous when inhaled, breathed in or ingested separately, they can even make chloramine gas when combined together. For example, if you pour bleach into your toilet and then add ammonia the gas that would result would cause a number of issues. Ammonia and bleach together have been known to cause nausea, chest pain and even pneumonia and fluid buildup in the lungs. Exposure for any length of time to combined bleach and ammonia will be hazardous.
Considerations
Ammonia is found in numerous home cleaning products including certain glass cleaners. Bleach normally has about 5.25 percent sodium hypochlorite chlorine by volume. The solid form of chlorine is calcium hypochlorite and it's a common pool disinfectant. Pool chlorine is about 65 percent chlorine by volume. There's more than enough chlorine in bleach or pool chlorine to dangerously react with an ammonia cleaning product. Always read the label of any cleaning product being combined with bleach to make sure ammonia isn't present.