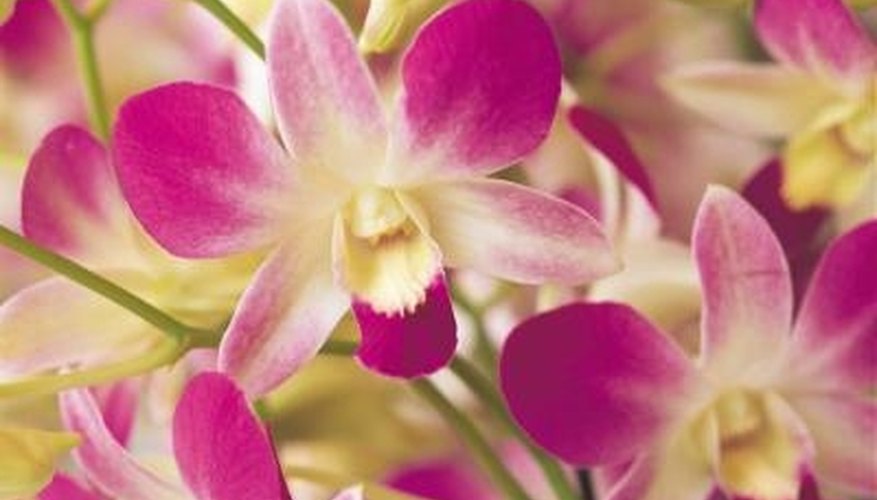 Although many people think that orchids are difficult to grow, that isn't necessarily the case. If the plant can grow in treetops in the wild with no human care, surely you can successfully grow orchids at home in your south-facing window. Don't worry when the orchid bloom withers up and falls off the plant, this is a normal part of the growth cycle.
Facts
Just as with other plants, orchid blooms won't stay on the plant indefinitely. While plants in the wild aren't trimmed, you'll likely want to trim your plants for aesthetic purposes, and to encourage the plant to grow another bloom more quickly.
Instructions
Trim the orchid stems with a pair scissors sterilized in isopropyl alcohol or bleach. Cut the stem about half way down and discard the cut portion. Dip the freshly cut stem in cinnamon powder to prevent a bacterial infection. Check the potting soil for any dropped debris, and discard of it.
Other Methods
If the spent bloom hasn't fallen off the stem yet, you can also deadhead the plant by hand. Grasp the stem just below the withered flower, and gently pull upward. Make sure you remove the entire bloom and don't leave anything behind on the stem or on the potting soil. Pieces left behind on the plant or on the potting soil may breed disease.
Next Steps
Continue the normal orchid care of by watering and providing adequate light, and your plant will likely rebloom in three to four months. Exact water quantities and light needs depend upon the specific type of orchid you have.
Considerations
Although orchids in the wild aren't trimmed or deadheaded, they are exposed to the elements such as wind and animals that encourage the bloom to fall off on its own. While trimming or deadheading isn't necessary for the plant, it does allow for quicker re-blooming and make the plant look prettier in the home.